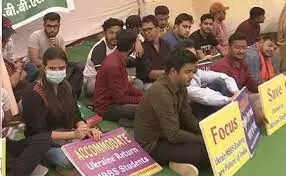 Mumbai: Close to a year after they fled war-torn Ukraine, several Indian medical students who were left in lurch in their career pursuits there have now sought admissions in nearby countries such as Uzbekistan, Georgia and Kyrgyzstan. Some who had completed their first year have started their medical course again in a new university, in a new country, while some are being allowed to start from where they had left. Some are still in India, figuring out other options or changing their career choices entirely and a few others are even considering appearing for NEET again.
"Till October, many of us were in touch with our respective universities in Ukraine. We were even taking lectures online, but after that we were not sure if the National Medical Commission (NMC) would allow online lectures for medical students. Since many were confused, we did not pay the fees. The universities now have blocked sites for international students who have not paid fees, which is fair," said Sahil Pal, a student from Mumbai's Goregaon region, who has now secured admission in Caucasus University in Georgia. He is allowed to start his third year after completing two years in Ukraine. Many, though, are finding it difficult to get their transcripts from universities back in Ukraine, which is delaying their admissions in the new country, said Pal.
A few students even returned to Ukraine as the Indian government failed to offer feasible solutions. Last year, the NMC allowed final-year Ukraine returnees to complete their mandatory internship in India. Rushauti Bhogle, who was studying in her first year, said many of those who have gone to other countries may want to practice abroad. Pal said that a few students went back to get their transcripts.
Also Read: Ukraine returned medical students' future remains a tragedy
After the terrifying ordeal she had to face while fleeing Ukraine, Bhogle's parents are not keen on sending her abroad for her higher studies, especially a war-torn country. Bhogle spent a few days in the bunker in Kharkiv, where their group was rationing for food and even drinking water, fearing for their lives. Using the washrooms was frightening too, as they had to go upstairs to the ground floor. "We have healed now, but our parents are not confident about sending us back abroad. It was a traumatising period even for them. A friend has taken admission in physiotherapy, despite completing her two years of medicine. Since I was in my first year, and I am keen on studying medicine, I am planning to appear for NEET again," she said.
A large majority of affected students were offered admissions in universities in Uzbekistan by their education consultants. Rushil Mirzapure, from Nagpur, who completed his first year in Vinnytsia University, has started afresh in Uzbekistan. Rajendra Patil, from Raigad, managed to get his son admitted to a university in Kyrgyzstan. "We had to spend money again on consultancy, but we did manage to complete the process smoothly with help from the agents," said Patil. A few others like Pradeep Kanade, a parent from Nerul, said their children are still in the dark as the government did not offer any concrete solution, plus universities in Ukraine are not parting with transcripts easily.