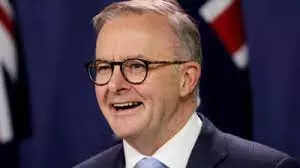 Canberra: Australian Prime Minister Anthony Albanese said on Friday that health reform would be the top priority for himself and state and territory leaders this year.
Albanese made the remarks when meeting with state premiers and territory chief ministers to discuss an overhaul of the health system, reports Xinhua news agency.
The leaders received a report into Medicare, Australia's universal healthcare system, that was commissioned by Albanese's government shortly after winning power in 2022.
The report made 21 recommendations for improving the affordability and accessibility of healthcare and relieving pressure on hospitals.
Hospitals across the country have reported growing waiting times at emergency departments, with people increasingly avoiding visiting their general practitioners (GPs) because of the costs.
State and territory leaders had joined forces to call for the federal government to overhaul Medicare and increase hospital funding but agreed to wait until later in the year to decide how to address the strained system.
"We all agree on what some of the issues are. Part of the issues are people are turning up at emergency departments because they don't have other options," Albanese told reporters after the meeting on Friday.
"We know that the key, going forward, is to better integrate the systems, so that patients are what it is all about, better healthcare, and we know that the earlier the care is provided, the cheaper that care will be as well."
The government has set aside A$750 million ($528 million) to fund the Medicare report's recommendations and the Minister for Health Mark Butler flagged further spending in May's federal budget.