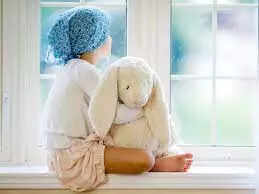 By Harika Palabatla
Hyderabad: Childhood is the purest form of joy, but many children aren't fortunate enough because of the deadly disease of 'cancer'. According to the World Health Organisation (WHO), every year globally an estimated 4,00,000 children and adolescents (0-19 years of age) develop cancer.
The latest Indian Council of Medical Research- National Centre for Disease Informatics and Research (ICMR-NCDIR) National Cancer Registry Report 2021 showed that childhood cancers accounted for 4 per cent of all the cancers in the country. The proportion of children affected may be higher owing to "missed cases" due to low coverage, lack of awareness, delayed diagnosis and a fledgling electronic referral system. As per the report, the most common type of cancer in children was leukaemia accounting for nearly half of all childhood cancers in both genders aged 0-14. (46.4 per cent in boys and 44.3 per cent in girls). The other common childhood cancer in boys was lymphoma (16.4 per cent), while in girls, it was a malignant bone tumour (8.9 per cent).
According to WHO, in high-income countries, more than 80 per cent of children diagnosed with cancer are cured due to the accessibility of comprehensive services, whereas in low- and middle-income countries (LMICs), less than 30 per cent of children are cured. Lack of awareness, delayed diagnosis, inaccessible therapy, lack of skilled workforce, inadequate diagnostics facilities, and treatment inertia are resulting in lower survival rates.
Lack of childhood cancer services posing challenges
Early detection, diagnosis, and access to health services are the major components to improve cancer survival rates in children. However, according to an ICMR report titled "Shaping the future of childhood cancer care in India"- key results from a national situational analysis: factsheet, 2022 stated that only 41.6 per cent of the public tertiary hospitals and 48.6 per cent of private tertiary hospitals have the availability of a dedicated Paediatric oncology department. In secondary-level hospitals, only 39.1 per cent of hospitals are providing childhood cancer services, which was higher in private 56.5 per cent than in public 32.8 per cent hospitals.
For public tertiary and secondary level hospitals, shortage of human resources, a lack of beds, a shortage of equipment and a lack of physical space for extending facilities, shortage of human resources has been a challenge in treating cancer in children.
The report also highlighted that at public tertiary hospitals, less than half of the hospitals had a paediatric oncologist (48 per cent), paediatric oncosurgeon (14.2 per cent), paediatric intensivist (38.9 per cent), medical oncologist (46.7 per cent) and palliative care physician (37.6 per cent). Among palliative care medications, methadone and morphine oral liquid stocks were available in less than 30 per cent of the public, private, and tertiary hospitals.
Commenting on childhood cancer services in India Dr Niti Krishna Raizada, Senior Director of Medical – Oncology & Hemato-Oncology, Fortis Hospitals, Bangalore said "Providing comprehensive childhood cancer services in India presents several challenges, such as limited access to specialized paediatric oncologists, advanced treatment options, financial constraints, and unequal access to care in rural and underserved areas. Addressing these challenges will require increased investment in healthcare infrastructure and personnel, as well as efforts to expand financial support and insurance coverage for families affected by childhood cancer. Nevertheless, these challenges represent opportunities for growth and improvement in the delivery of childhood cancer care in India."
Speaking on similar lines, Dr P Vijay Anand Reddy, Director, Apollo Cancer Institute, Hyderabad & Chair, Association of Radiation Oncologists of India said "Lack of access to proper Paediatric health care in remote areas, lack of awareness of signs and symptoms associated with various childhood cancers, lack of awareness on familial cancers and lack of genetic testing are the major challenges in childhood cancer services."
The ICMR report emphasised that the key to a better prognosis and favourable outcomes is early and accurate diagnosis and timely initiation of effective treatment. The need of the hour is to formulate a childhood cancer policy that will enable timely diagnosis, treatment, supportive care and follow-up through the well-defined care pathway.
Childhood cancer survivors are at tenfold risk of heart diseases
The growing advancements in drugs, vaccines, and therapies are helping in improving survival rates. However, reducing serious health outcomes in childhood cancer survivors remains a challenge. Dr Reddy said "There is a tenfold increased risk of coronary artery disease following thoracic radiation or prior chemotherapy in childhood cancer survivors. Also, in childhood cancer survivors, 26 per cent of deaths beyond 45 years are because of coronary artery disease and stroke.
Dr Shweta Lunkad, Consultant Haematologist & BMT physician at Ruby Hall Clinic commented "Childhood cancers are usually treated with chemotherapy, radiotherapy or surgery. The risk of cardiac toxicity is increased with radiotherapy and certain chemotherapy agents like anthracyclines used for treatment. Changes in lifestyle that happens because of cancer therapy, promote a lot of inactivities, and thus obesity, and this can also increase the risk of cardiac problems in survivors." She also suggested that regular medical check-ups and a healthy lifestyle can help manage this risk.
Long-term effects and precautions to prevent them
The long-term effects of childhood cancer treatment can vary depending on the type and intensity of treatment received. Dr Maheboob Mahamud Basade, Consultant Medical Oncology, Sir HN Reliance Foundation Hospital, Mumbai commented, "Certain cancer treatments, such as radiation therapy to the head and neck, can impact growth and development in children, they also have a significant impact on a child's mental and emotional well-being. Childhood cancer survivors are at a risk of cancer recurrence after treatment, but it varies depending on the type and stage of cancer, and other factors such as the patient's age, treatment received, and overall health. They should receive long-term follow-up care to monitor for any potential health problems, including cancer recurrence."
"Reducing risk exposures, avoiding the use of alcohol and smoke while pregnant, preventing children from being exposed to secondhand smoking, reducing exposure to air pollution caused by vehicles, avoiding exposure to cancer-causing substances, reducing the quantity of radiation used in some medical examinations, such as CT (computed tomography) scans, learning about your family's history of diethylstilbestrol exposure (DES) can help in preventing the disease," commented Dr Suhas Aagre, Consultant Medical Oncologist and Hemato-Oncologist at Asian Cancer Institute.
Childhood cancer poses a unique challenge during as well as post-treatment. Lack of awareness and low health facilities are becoming huge barriers in preventing the childhood cancer burden in India. The need of the hour is to formulate a childhood cancer policy that will enable timely diagnosis, treatment, and supportive care and increases awareness.