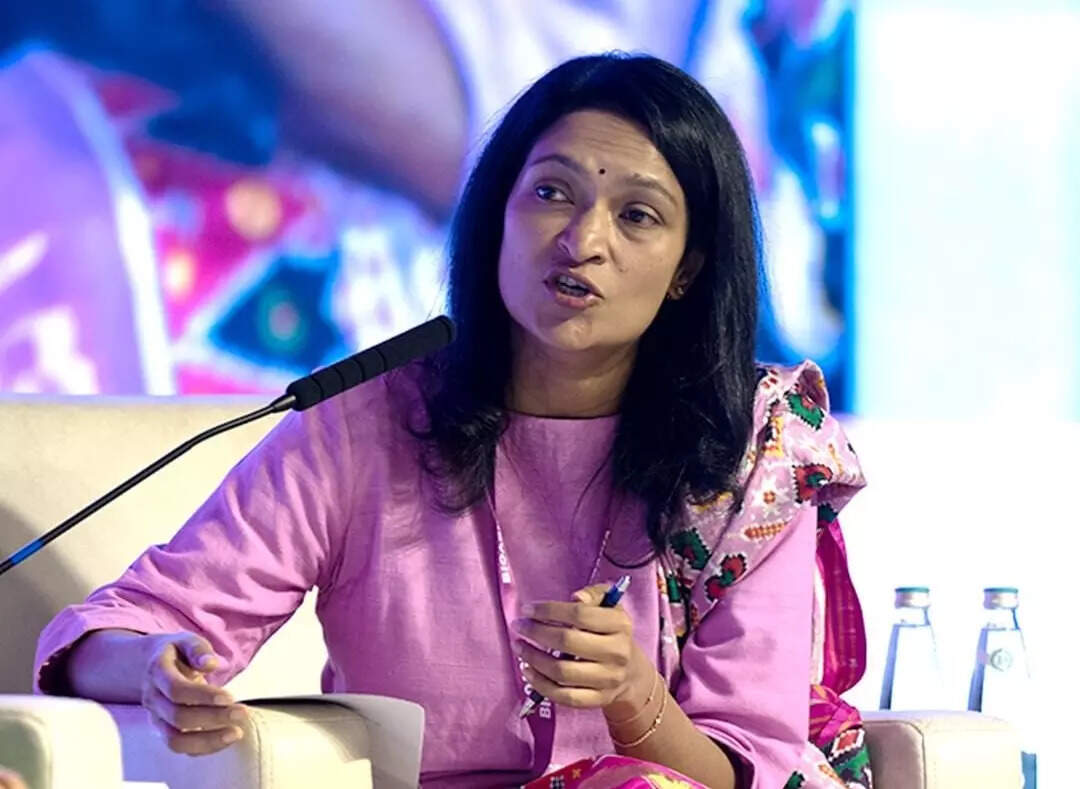 Hyderabad: Biological E's COVID-19 vaccine candidate, Corbevex, is expected to get the World Health Organisation's (WHO) prequalification over the next few weeks, informed Mahima Datla, Managing Director, Biological E Ltd. She spoke to media on the sidelines of the recently concluded 20th BioAsia 2023 summit, added that the company is anticipating to have reached the last mile for its protein subunit COVID-19 vaccine and the move will open up new possibilities for the company to have discussions with other countries on this.
Calling Corbevax an innovative product that was not in any way a follow-up, Datla said, "We have completed the inspection and the review of the clinical data. SAGE (the Strategic Advisory Group of Experts on Immunisation of WHO) has also reviewed our data, so we are anticipating that we are really at the last mile."
When asked if there is an increase in demand for the vaccine, Datla stated that the company has already used 10 crore doses for children aged 12 to 14. Biological E Ltd is in talks with the government on primary immunisation for children below the age of 12, admission of Corbevex as a booster, and the vaccine's admissibility for children who have recently turned 12.
When asked about the increase in demand for Corbevax, Datla, said, "It's a changing equation literally on a daily basis, whether it's Covax or our own government. In December, there was a lot of frenzy around increasing the coverage, particularly with what was going on in China."
She explained that the COVID story is still yet not done and there needs to be advanced preparations to be able to meet those exigencies. Biological E ltd has also asked and applied to the Drug Controller General of India (DCGI) to move the bivalent, specific vaccine through clinical trials.
Addressing queries on variant-specific vaccines, Datla said, "Each country's needs are different. If primary immunisation is lacking in any country and if they want to go to children, then the vaccine choices get limited because some of the vaccines are not recommended for use in children," adding that cross-protection data has been shown and the company will wait for DCGI's response.
Answering a question on the companies' expanding capacity supplies in the pentavalent vaccine and Sanofi's recent decision to curtail its operations in India, Datla asserted that each company has its own economy and that price dynamics work differently. She added: "We invest in huge capacities because then we have economies of scale. And that gives us the opportunity to offer the most affordable pricing. But at times when you don't win a tender, that becomes a huge bottleneck, because you're saddled with huge fixed costs. You know, what do you do with that capacity?"
She emphasised that the companies diversify their portfolio as a way to cross-subsidize, keeping in mind the fluctuations in the market share of the company. While narrating that the company faced a series of challenges, especially as more players entered the vaccine market between 2013 and 2015, ultimately leading to a pricing crash situation.
"I think the vaccine industry will continue to see this and the key is to make sure that you're diversified. Not only do you have a diverse portfolio, but you also have a diverse customer base. For instance, we have the government of India and UNICEF as our two largest customers. But we also made very conscious efforts to invest in middle-income markets and have bilateral contracts with some of those countries."
Speaking on the constraints on companies to pursue research in the development of vaccines, Datla laid out a 'push and pull approach' that is crucial for pure discovery purposes. "I think we need to recognise that in the rest of the world, companies rely on academia for a lot of basic discoveries." According to her, it will take time for that to become the country's ecosystem.
The pull approach gives importance to the novel products and is based on a robust domestic market. While describing the government's PLI and RLI schemes as very helpful, Datla said, for innovation to occur, the right incentives need to be given. "If you take the top 25 companies, they're about 13-15 per cent profit after tax(PAT), take out the outliers, some are doing phenomenally, then some are maybe making losses, but on average, and this is after they spent five to six per cent of money in R&D."
According to her, the investors and shareholders don't see this model as rewarding as much as they see it as a long term risk with the possibility of high risk failure. "That's the constraints in the reality that we live with. The innovation will require a disproportionate investment and the heart to accept it," she elaborated further.
Biological E Ltd was chosen by the World Health Organisation (WHO) as its mRNA hub partner for India. The company's aim is to create the regional capacity to produce mRNA vaccines as a base technology. "If this capability exists, then we'll be able to quickly respond to future pandemics and engineer things quickly," she concluded, adding that the company needs to push it further by figuring out the right diseases or targets regardless of pandemics. As the company believes that can't be a business model.