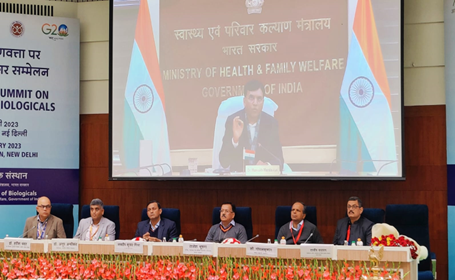 New Delhi: Dr Mansukh Mandaviya, Union Minister for Health and Family Welfare in his video address at the National Summit on Quality of Biologicals, organised by the National Institute of Biologicals (NIB) stated that the National Institute of Biologicals is playing a vital role in ensuring that only quality biological products reach the health system, thereby strengthening the mission of ensuring quality health and wellness for all. Dr Bharati Pravin Pawar, Union Minister of State for Health and Family Welfare and Dr VK Paul, Member (Health), NITI Aayog, also addressed the summit through a video message.
The summit will act as a platform to bring together stakeholders, regulatory authorities & academia for interaction on various aspects of quality assurance of biologicals. These interactions will spearhead capacity building, technology enhancement and development of newer biologicals for promoting and safeguarding public health contributing towards the government's mandate of 'Healthy India'.
Dr Mandaviya noted that 'biological drugs have emerged as a choice of therapy along with conventional chemical drugs. The medical emergency over the past few years due to the COVID-19 pandemic has seen our biopharma and diagnostic industry prove to be strategic assets to meet the public health requirement not only of our country but globally, which has given meaning to the statement of universal brotherhood 'Vasudhaiva Kutumbakam', that is, 'the whole world is one family'.
Congratulating NIB for bringing multiple stakeholders in a single platform, the Union Minister said, This summit will provide a base for gap analysis in the currently prevalent quality assurance approaches in India. It will help upgrade the infrastructure and technologies of the country's biopharmaceuticals and in-vitro diagnostic industry and enhance its capacity to develop world-class products and promote public health."
He also commended NIB for realising the need for trained human resources in the biopharma sector and for taking initiative towards National Skill Development Programme. He further added that NIB, Blood Cell in collaboration with NHM knowledge is providing training to postgraduate students on 'Quality Control of Biologicals' and providing technical assistance to blood bank officials to strengthen blood services and to develop and enhance analytical skills and technological knowledge. He urged NIB to further strengthen the training programmes to prepare qualified human resources in this particular field.
Dr Mandaviya also highlighted the need to initiate studies using state-of-the-art analytical platforms to promote the development of pharmacopeial monographs for new biologicals made from updated technologies. "Treatments will become more affordable for the common man and also our public health system will become stronger. Industry, academia and the regulatory network will have to work together to spur indigenous development of new biological medicines, including existing drugs for the treatment of rare and neglected diseases, innovation on new product categories such as gene therapy, stem cell therapy and personalised medicines," he stated.
Dr Pawar highlighted, "NIB is uniquely positioned to conduct thorough and unbiased evaluations of the quality of biologicals. NIB does not just focus only on testing and evaluation but also plays a key role in promoting good manufacturing practices, monitoring and reporting adverse events, and collaborating with other regulatory agencies and industry partners to ensure the quality and safety of biologicals."
Highlighting the need to adopt digital interventions in the biopharma industry, she urged the biopharma manufacturers to evolve. "Keeping these disruptive changes in mind, and build bioprocess models for the future. The regulators, as well as the testing laboratories, should also keep in pace with these emerging technologies and practices so that these lifesaving medicines are introduced into the market at the fastest possible pathway," added Dr Pawar. She also urged the industry representatives to focus on the increased thrust on R&D and innovation, self-reliance in API, upgrading quality standards, increased digitisation, regulatory simplification and increased thrust towards exports.
A coffee table book was also launched by the dignitaries at the event. Rajesh Bhushan, Secretary, Health Ministry; S Gopalakrishnan, Special Secretary, Health Ministry; Jaideep Kumar Mishra, AS & FA, Health Ministry; Rajiv Wadhawan, JS, Health Ministry; Dr Anup Anvikar, Director, NIB; Dr Harish Chander, Deputy Director (Quality Control), NIB; and senior officials of the Union Government were present. Dr Pramod Kumar Garg, Executive Director, THSTI and Prof YK Gupta, President, AIIMS Bhopal were also present.