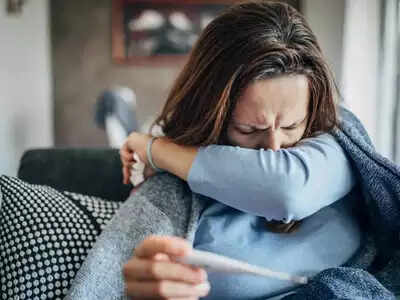 By Prathiba Raju and Abhishek Bhatia
New Delhi: India has been experiencing a relief after the decline in COVID-19 cases since the Omicron spike late December 2022. But, in the last two weeks, the country is witnessing a steady rise in the number of COVID-19 cases. Patients, coupled with a persistent strange flu, are showing similar kinds of COVID symptoms.
The gradually rising cases can be better understood with the help of health bulletins and data issued for the public at large. According to the COVID-19 Data Repository maintained by the Center for Systems Science and Engineering (CSSE) at Johns Hopkins University (JHU CSSE COVID-19 Data), between January 30, 2023 and February 13, 2023, the average number of emerging COVID-19 infections in India was around 107. The number rose from February 14, 2023 to March 01, 2023, and the average number of new cases reportedly stood at 171.74.
Therefore, comparing both the intervals, 62 per cent rise has been observed in the number of positive cases. The World Health Organisation (WHO) COVID-19 dashboard revealed an increment of 44.41 per cent COVID-19 cases in the last seven days. Going by media reports, Telengana state is seeing a quadrupled jump in COVID-19 hospitalisations from just 27 on February 13 to 95 on February 28.
This is happening against the backdrop of a spike in influenza cases, with patients complaining of persistent coughing and chest pain. Patients affected by the influenza A virus (H3N2) are experiencing high-grade fever, breathing difficulties, fatigue, and dry cough that lasts for 2–3 weeks. In some cases, patients are also getting hospitalised. There is no pinpointed cause behind the steady rise in coronavirus cases. But lower immunity levels are believed to be a cause of concern for the viruses taking over the body's immune response.
Although the H3N2 phenomenon is widespread in the country, as per experts inform that the national capital is under siege, with an exponentially higher number of cases reported in the past two weeks.
ETHealthworld spoke to multiple doctors who were at the forefront of battling the pandemic to understand the possible reasons behind the rise of COVID cases in the country again and to explore the possibility that patients suffering from influenza are at higher risk and more susceptible to getting infected with the coronovirus.
Disagreeing that influenza A H3N2 could be one of the reasons behind the steadily rising COVID-19 cases, Dr Vijay Kumar Chennamchetty, Lead Interventional Pulmonologist & Sleep Disorder Specialist, Apollo Hospitals, Jubilee Hills, informed that during the peak of the COVID-19 pandemic people had already experienced living with multiple viruses that existed along with COVID-19.
"We can't assume that the increase in H3N2 is because of COVID-19 and vice versa. This time, H3N2 with the matrix M gene from the 2009 H1N1 pandemic virus exists in the community, which since 2011 has been presenting as sporadic outbreaks," he added.
Underscoring that it is difficult to test the new variants of viruses for every patient, Dr Paritosh Baghel, Senior Consultant-Internal Medicine, SL Raheja Hospital Mahim (Fortis Associate), said, "It is likely that for any underlying viral infection or any other infection that predisposes a person where the immunity goes down, there is always a chance that the person may be predisposed to some other infection also. Theoretically, it's possible, but it would require more stringent testing."
"As compared to a person who doesn't have an underlying condition, there is a possibility. If you are already having an influenza infection, then the possibility that you may contract COVID-19 is there," Baghel stated..
Emphasisng the role played by immunity is crucial in both COVID-19 and influenza A H3N2, Dr Samir Garde, Pulmonologist Global Hospital, Parel, Mumbai, who said human immunity is always battling against invading bacteria and viruses. The viruses have a tendency to improvise themselves to overcome this immunity. "This battle is always on, and it has been there for thousands of years. The bacteria and viruses have been prevalent in nature probably even before human beings came into existence."
Dr Sanggita Checker, Consultant Chest Physician, Wockhardt Hospitals Mira Road, defines the situation as unique and at the same time a coincidence as both infectious diseases are more prevalent in the winter season and suggests more research needs to be done about the aftermath effects of disease on people's immunities.
The third and apparently fourth booster doses as precautionary dosages against COVID-19 are taken by many countries. In India, the penetration of booster dosage is quite low. As of March 01, 2023, around 22,85,81,945 precautionary dosages in the form of boosters had been administered to the Indian population, which constitutes around 10.35 per cent of the total vaccinations.
Dr C Vijay Kumar believes that it could potentially be that some of the people who were vaccinated at an early stage are developing reinfections. He adds, "Though the penetration from the booster dose is less, at this juncture, there's no reason why we must fasten up the booster immunisation for COVID-19. However, high-risk people must complete their precautionary dose at the earliest."
Experts we spoke to suggest that annual flu shots fortify more against the severity of the viral infections in comparison to the COVID boosters. The flu shot, also known as the anti-influenza vaccine, is quadrivalent in nature as it keeps on incorporating prevalent viral strains.
The influenza virus is always undergoing modification. And, according to the pulmonologists, there are multiple strains that are infecting humans. Vaccines are prepared in such a way as to incorporate the most prominent strains.
"Once the vaccine is administered, we not only get protection against those four prominent influenza viruses, but since this T-cell-mediated immunity gets stimulated and produces memory cells, etc., It gives an umbrella of protection, fighting against adenovirus, rhinovirus, respiratory syncytial virus, and even coronavirus. So you're getting larger protection with flu shots," informed Dr Garde.
Since the COVID-19 outbreak, the usage of annual flu shots has declined among the population. Flu shots act as a primary defence against the viral and according to the Serum Institute of India, it help in differentiating COVID in comparison with seasonal flu. Apart from aiding in the early identification of COVID-19 cases, it also reduces the burden of hospitalisation for patients.
Medical experts believe that at this point, flu shots are much better to get than boosters. Explaining that vaccines prevent the complications and seriousness of the disease, Dr Baghel said, "One has to understand that vaccination is not intended to completely eradicate the disease. It is basically to prevent the complications associated with it. Now a days, the paediatric population is also getting affected by respiratory infections, so definitely all the vulnerable population, which includes children, especially those below five years of age, should be taking the influenza vaccine every year. This is what I recommend to all my patients."
People are generally sceptical about taking boosters, said Dr Checker adding that people should be made more educated and aware of the benefits of flu shots. Experts called for maintaining cough etiquette, frequent hand washing, and not touching the T zone of the face without first washing hands.
Like in a pandemic situation, there was a need for a specific anti-COVID vaccine, Dr Garde suggests in day-to-day life when there are no pandemics or epidemics happening. We have to take annual flu shots to protect us from various respiratory viral infections and the severity of those infections.