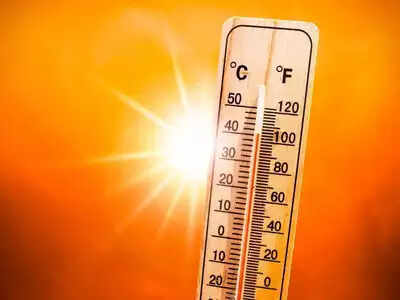 New Delhi: Heat waves are not uncommon in India, especially during the summer months of April to June. However, over the years, India has been recording a rise in heat waves and that maximum temperature, which has been a major contributing factor to hundreds of deaths and widespread health impacts.
Temperatures have already touched unusually high levels in some places of the country and substantial deviations from expected normal temperatures from this time of the year are also being reported from some states and districts, informed Rajesh Bhushan, IAS, Secretary, Ministry of Health and Family Welfare (MoHFW) in his letter to the chief secretaries of all states/UTs, that have the potential to cause debilitating illnesses.
As per the public health advisory issued by the National Programme on Climate Change and Human Health (NPCCHH), heat-related illnesses (HRI) include mild to severe heat rash, oedema, cramps, tetany, syncope, exhaustion, and heat stroke. Heat stress can also exacerbate chronic diseases. The symptoms to watch out for include dizziness or fainting, nausea or vomiting, headache, extreme thirst, decreased urination with unusually dark yellow urine, and rapid breathing and heartbeat. NPCCHH urges that in case of the occurrence of such symptoms, one should get immediate medical attention and move to a cool place and drink liquids.
In its advisory, NPCCHH states that the danger signs to look out for in cases of heat-related stress in adults include altered mental sensorium with disorientation, confusion and agitation, irritability, ataxia, seizure or coma, hot, red and dry skin, core body temperature rising to 104°F, throbbing headache, anxiety, dizziness, fainting and lightheadedness, muscle weakness or cramps, nausea and vomiting, rapid heartbeat, and shallow breathing. The signs to watch out for in children include refusal to feed, excessive irritability, decreased urine output, dry oral mucosa and absence of tears/sunken eyes, lethargy, seizures, and bleeding from any site.
To mitigate the impacts of heat waves, Bhushan suggested that the guidance document 'National Action Plan on Heat-Related Illnesses' published by the National Centre for Disease Control (NCDC), MoHFW should be disseminated to all districts to prepare the health departments and stakeholders to manage and monitor HRIs. He further relayed that starting from March 1, 2023, the NPCCHH will conduct daily surveillance of HRI through their Integrated Health Information Platform (IHIP).
Informing that the daily heat alerts issued by NPCCHH forecast a heat wave for the next few days, he advised that state, districts and city health departments must ensure the implementation of health-related action plans to sensitise and build the capacity of medical officers, health staff, grass-root level workers to identify HRI quickly and deploy effective treatments. Health facilities should also be reviewed regularly to ensure an adequate supply of essential medicines, intravenous fluids, ice packs, ORS, sufficient drinking water, and constant electricity to maintain the continued functioning of cooling appliances, notified the secretary, stating that these facilities should also take necessary measures to reduce the indoor temperature by installing a green roof, window shades, and outside shades.
Concluding his warning letter, Bhushan brought attention to NPCCHH's additional community-level awareness materials to warn and equip the general public with safety protocols to protect them from HIR. He enclosed a standard template of a public health advisory prepared by NCDC with his letter to the chief secretaries, recommending that the same should be customised to suit local needs and disseminated among the masses.
As per NPCCHH's public health advisory, hydration is key to protecting oneself from heat-related exertions. NPCCHH advises drinking ample water whenever possible, using ORS, consuming homemade drinks like lemon water, buttermilk, and fruit juices with some added salt, and eating seasonal fruits and vegetables with high water content. It is equally essential to stay covered, informed NPCCHH, by wearing thin, loose, and preferably light-coloured cotton garments, and using an umbrella, caps, or scarf to avoid exposure to direct sunlight. Staying indoors is another option that the general population must consider as much as possible. If going outdoors is unavoidable, then outdoor activities should be limited to cooler times of the day.
The health advisory further recommends that awareness is key to prevention, hence it is essential to stay in touch with news alerts through mainstream forms of media platforms. Latest weather updates can also be garnered from the India Meteorological Department's (IMD) website.
Although anyone at any time can suffer from heat stress and HRI, some people are at greater risk than others and should be given additional attention. These include infants and young children, pregnant women, people working outdoors, people suffering from mental illness, the elder population, and people plagued with heart disease or high blood pressure. This demographic should be supervised and their health should be monitored daily, informed the health advisory. Additionally, the documents suggest that people from cooler climates should allow one week for their bodies to acclimate to the heat by gradually increasing exposure/physical activity in hot environments.
Listing out the 'dont's' during severe heat waves, the documents state – avoid getting out in the sun, especially between 12:00 noon and 03:00 pm, avoid strenuous activities when outside in the afternoon; avoid cooking during peak summer hours; avoid alcohol, tea, coffee and carbonated soft drinks or drinks with a large amount of sugar as these lead to loss of body fluid; avoid high-protein and stale food, and do not leave children or pets in a parked vehicle.
For employers and workers, the advisory indicated providing cool drinking water, shaded work areas and temporary shelters, scheduling strenuous and outdoor jobs to cooler times of the day and increasing the frequency and length of rest breaks for outdoor activities, employing trained first aid providers and an emergency response plan in the event of a heat-related illness, organise awareness campaigns for employees regarding health impacts of extreme heat and recommendations to protect themselves during high temperatures.
NPCCHH recommends taking the rising temperatures extremely seriously, implementing proactive measures to alleviate heat stress, and calling 108/102 immediately if a person suffers from any danger signs of extreme heat stress.