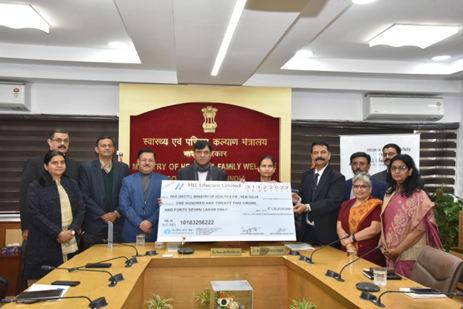 New Delhi: HLL Lifecare Limited (HLL), a mini-ratna public sector enterprise under the Union Ministry of Health and Family Welfare (MoHFW), paid a dividend of Rs 122.47 crore to the ministry for the financial year 2021-22. HLL chairman and managing director, Beji George, handed over the dividend cheque to Union Minister for Health and Family Welfare, Mansukh Mandaviya.
HLL recorded a turnover of Rs 35,668 crore and a profit before tax of Rs 551.81 crore during the financial year 2021–22.
Applauding HLL efforts during the pandemic, Dr Mandaviya said, "HLL has played an important role in the procurement and distribution of emergency medical supplies supporting the Union Health Ministry for COVID– 19 pandemic management. As a nodal agency for procurement and supply of emergency medical items for COVID -19 pandemic management, it enabled real-time management of the crisis."
Expressing concerns over the sustainability of Public Sector Undertakings (PSU), Mandaviya stated that although PSUs were established with a great vision, their performance has not always been satisfactory, pointing out that financial discipline and responsible behaviour are key aspects for the sustainability of PSUs.
HLL was incorporated on 1st March 1966 to produce contraceptives to support the government's family planning programme. While focusing on and expanding reproductive healthcare, HLL diversified into other healthcare segments such as hospital products, hospital infrastructure management, medical equipment procurement consultancy, diagnostic services, and retailing of pharmaceuticals.