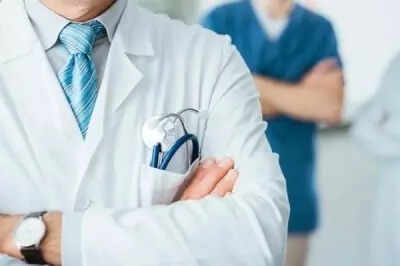 Jaipur: Expressing solidarity with agitating doctors in the state against the Right to Health (RTH) Bill, the Indian Medical Association (IMA), has declared March 27 (Monday) as black day.
The state government passed the RTH bill in the state assembly on Monday. "The IMA has decided to organise a black day on March 27 to protest against this bill and show our solidarity with Rajasthan doctors. Be prepared for a national strike," the IMA said.
IMA has asked all the states to support doctors of Rajasthan. Doctors in all the states and local branches will observe black day by wearing black badges.
The national bdy has asked its members to meet district authorities and submit a memorandum to be forwarded to union and Rajasthan ministeries. The IMA held urgent general body meetings and passed a memorandum supporting IMA Rajasthan and opposing the "controversial" Right to Health Bill. The IMA will issue an email to the union government and Rajasthan authorities accordingly.
The protests against the Bill continued for the seventh day in the whole of Rajasthan on Saturday. Private doctors and resident doctors continued to boycott all medical work in all the districts of the state, as well as government doctors also boycotted work for 2 hours.
On Saturday, resident doctors and private hospital doctors from the entire Jaipur district and neighboring districts participated in a rally. National level office bearers of Indian Medical Association also participated in this rally. The delegation also met Governor Kalraj Mishra on the issue.
On why doctors are protesting if the government says that they have agreed to demands of all doctors, Dr Vijay Kapoor, secretary, Private Hospitals and Nursing Homes Society spearheading the doctors protest against RTH bill said, "Had it been so, and had the representation and the views expressed to the government been as per the sentiments and fraternity of the state, why would thousands of doctors from all over Rajasthan be on the streets since last so many days.The doctor community is known as docile one. Whatever the state government has done is unprecedented and that is what has led to this unprecedented agitation."
"The ongoing apathy of the state government towards the medical professionals has only aggravated the situation. It is soon going to be a national agitation unless the government withdraws the RTH Bill," said Dr Kapoor.