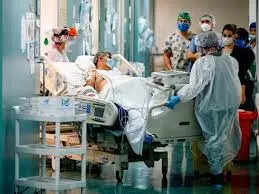 Pune: Upcoming central government guidelines on COVID treatment will cap steroid dosage for admitted patients with hypoxia (low oxygen levels or breathlessness), health ministry sources said on Wednesday.
The revised guidelines will fix the daily lower dose of methylprednisolone injection at 32mg or 40mg of predniselone or an equivalent daily dose of dexamethasone (6mg), irrespective of a patient's body weight. The guidelines are being drafted and will be released soon, a ministry official said.
Many doctors said they had already cut back on steroids for COVID patients, ever since studies abroad, including a recent one by the Infectious Diseases Society of America, recommended a total daily dose of dexamethasone (6mg) for 10 days or until discharge. That dosage is equivalent to methylprednisolone 32mg and prednisone 40mg.
Dr Rahul Pandit, chair (critical care), at Mumbai's HN Reliance Hospital, said: "I have not used more than 40mg methylprednisolone or 6mg of dexamethasone in hypoxic COVID patients. The new revision in clinical guidelines will help create more awareness."
Dr Anita Matthew, from Fortis Hospital, Mulund, said 40mg was the most preferred outer limit. "The dose would be a bit higher for patients who are obese or those with severe lung infection," she said.
During 2021's Delta wave, many in hospital care were given up to 80mg doses for 1-2 weeks, causing a 'parallel epidemic' of mucormycosis among Covid patients.
"There is no denying steroids were misused during the first two waves," said infectious diseases specialist Dr Mala Kaneria from Mumbai's Jaslok Hospital.
Unlike antivirals such as remdesivir, steroids were the only drugs deployed against that were backed by evidence. A UK trial had shown that steroids were effective in patients with severe lung involvement.
"The dose of steroids in most academically oriented hubs was between 1 or 2mg per kilo of body weight. And the dosage was mostly given for five days," said a senior government hospital doctor who didn't want to be named.