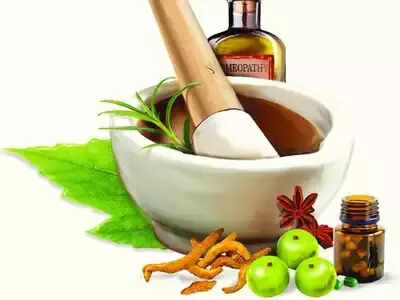 New Delhi: Haryana Government is working towards mandating the study of Ayurveda for MBBS students in their fifth year. In this direction, Anil Vij, Haryana Health Minister has set up teams that have been entrusted with the task of formulating and preparing the course programme for teaching Ayurveda to medical students. Subjects like Anatomy and Physiology which are common to both Allopathy and Ayurveda should be taught to the students from the perspective of both branches separately. However, if the study of two branches is made into a hybrid mandate, it would lead to learning gaps.
To produce skilled and qualified doctors in the future, it is essential that common and interrelated subjects of both branches should be taught separately. However, on a case-to-case basis, both Ayurvedic and Allopathic medicines can be prescribed to patients having allergic cough and cold. Currently, there are 13 medical colleges in Haryana out of which six are run by the Haryana Government.
Speaking to Education Times, Dr Dinesh Sanduja, organising secretary, Indian Medical Association (Haryana State), says, "The Ayurvedic branch of medicine is an emerging field, but including it in the mainstream curriculum of MBBS is not a desired move. Instead of mandating the teaching of Ayurveda for the entire fifth year of MBBS, some relevant sections of Physiology and Anatomy branches that are common to both Allopathy and Ayurveda branches can be taught to the students. In addition to this, for common diseases like allergic cold and cough, both Ayurvedic and Allopathic medicines can be prescribed. It is essential that both the branches of Allopathy and Ayurveda should be taught separately which is in the academic interest of students. If students spend the entire fifth year studying Ayurveda, they would miss out on critical understanding of the mainstream MBBS curriculum which would lead to academic losses. Haryana government is aiming to create a hybrid model of medical education in the state which would adversely affect the standards of medical education."
"If government wants to promote Ayurvedic medicine, Ayurveda doctors should prescribe only Ayurvedic medicines and refrain from prescribing allopathic medicines," adds Sanduja.
Rabinarayan Acharya, director general, Central Council for Research in Ayurvedic Sciences (CCRAS), "The inclusion of Ayurveda in MBBS curriculum would broaden the knowledge base of MBBS students as they would be introduced to the alternative system of medicine alongside studying the allopathic branch in detail. This would be in the academic interest of students as it would give them a better understanding of strengths and weaknesses of both systems of medicine. For instance, in order to improve the quality of life of a Cancer patient, he or she can be referred to an Ayurveda expert for symptomatic treatment. Recently, an integrated Out Patient Department (OPD) has been started in RML Hospital, Delhi, and NIMHANS Bengaluru where patients would be prescribed allopathic or Ayurveda medicine depending on the effectiveness of the medicine on case to case basis by the doctor of the concerned system of medicine."