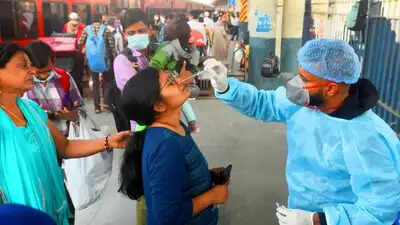 New Delhi: India registered 918 fresh COVID-19 cases in the last 24 hours. This brings the total number of active cases in the country to 6,350, representing 0.01 per cent. Since the onset of the pandemic, the virus-related deaths till Sunday stood at 5,30,802, with the three latest fatalities, one each reported in Rajasthan and Maharashtra, and one reconciled in Kerala.
A total of 92.03 crore COVID-19 tests have been conducted so far, including 44,225 tests in the last 24 hours. The daily positivity rate is 2.08 per cent and the weekly positivity rate is pegged at 0.86 per cent.
"India has administered 220.65 crore total vaccine doses (95.20 crore second doses and 22.86 crore precaution doses) of the COVID-19 vaccine have been administered so far under the nationwide vaccination drive. 1,246 doses were administered in the last 24 hours," a health bulletin from the Union Health Ministry informed.
In addition, 479 recoveries were reported in the last 24 hours, bringing the total number of recoveries to 4,41,59,182. The recovery rate currently stands at 98.8 per cent.
The COVID-19 cases have been rising again in the country since March 2023. India, after 129 days, reportedly had more than 1000 infection cases on Sunday. Earlier, the Health Ministry had also raised the alarm about rising COVID-19 cases in six states. Among the states, Gujarat is seeing the fastest spike in COVID-19 cases.
With soaring SARS-CoV-2 cases reported in parts of the country this past week, the Ministry of Health and Family Welfare (MoHFW) has issued revised guidelines for people to follow:
The Health Ministry has discouraged the use of antibiotics. The revised guidelines suggest that antibiotics should not be used unless there is clinical suspicion of bacterial infection. "The possibility of coinfection of COVID-19 with other endemic infections must be considered. Systemic corticosteroids are not indicated in mild disease," revised guidelines informed further.
The guidelines also called upon people to follow physical distancing, including using indoor masks, maintaining hand hygiene, symptomatic management (hydration, antipyretics, antitussives), and monitoring temperature and oxygen saturation (by applying a SpO probe to fingers). It is also advised to stay in contact with the treating physician.
Anyone with breathing difficulty, a high-grade fever, or a severe cough, particularly if it is lasting for more than five days, should immediately seek medical attention. As per the guidelines discussed and prepared in January, "a low threshold is to be kept for those with any of the high-risk features."
Additionally, in moderate or severe diseases at high risk of progression, the guidelines recommend considering Remdesivir for up to 5 days (200 mg IV on day 1 followed by 100 mg IV OD for the next 4 days).