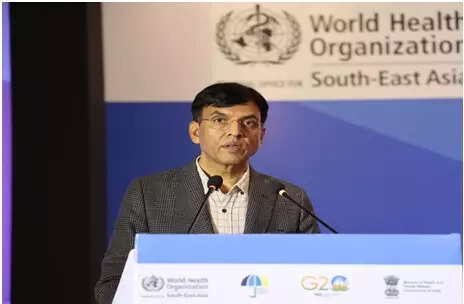 New Delhi: India has taken a quantum leap towards leveraging digital health solutions for effective health service delivery, informed Dr Mansukh Mandviya, Union Minister for Health and Family Welfare, while delivering a keynote address on Digital Transformation Challenges, Opportunities, and Success. He said, "Digital health interventions are not just limited to individual healthcare delivery programs, but are spread across multiple health outcomes, catering to both communicable and non-communicable diseases (NCDs) across the health and disease burden spectrum".
Speaking at the concluding day of the "Global Conference on Digital Health—Taking Universal Health Coverage to the Last Citizen," the Union Health Minister said India's focus on comprehensive primary healthcare is underlined with the NCD application, through which more than 15 million people aged 30 or older have been screened for five NCDs, creating a health profile for India.
"Using the Integrated Health Information Platform (IHIP), which was developed in collaboration with the World Health Organisation (WHO), as a national surveillance system, we have ensured name-based, GIS-enabled, near real-time surveillance of 36 epidemic-prone diseases," Mandviya added.
Highlighting India's achievements in the digital health and service delivery domains, Dr Mandaviya elaborated on the country's efforts in creating a name-based database of 200+ million eligible couples, 140 million pregnant women, and 120 million children who are being monitored for antenatal, postnatal, and immunization-related health services.
"India has created another key example in the NIKSHAY intervention under the National TB Elimination Programme, through which more than 11 million patients are tracked for adherence to TB treatment," he added.
Also present at the meet, Joe Bejang, Minister of Health and Human Services, Republic of the Marshall Islands, praised India's accomplishments in the field of digital health. He pointed out that using digital interventions can help focus services more precisely, reduce inefficiencies in the management of drug and supply stocks, and lessen the need for medical evacuation through telemedicine and teleconsultations. He added that the development of digital health infrastructure also offers significant financial benefits in light of rising transportation expenses.
Dr Mandaviya also mentioned additional pan-Indian digital tools like eRaktkosh (which oversees all blood banks nationwide), ORS (an online reservation system application that enables online appointments for government facilities nationwide), Mera Aspataal (a platform for hospital patient feedback), eSanjeevani (the largest telemedicine network in the world), and CoWIN (a vaccine management platform)
He further added that more than 100 million tele-consultations have been done through this platform, while the worldwide famous CoWIN vaccine management platform has supported the administration of more than 2.2 billion COVID-19 vaccine doses.
Health officials from other countries were also made part of the event. Those present at the high-level plenary included Nina Bergstedt, Senior Adviser, Office for Data Infrastructure and Cyber Security, Ministry of Interior and Health of Denmark; Bernardina De Sousa, National Deputy Director for Health Training, Ministry of Health, Mozambique; Bader Awladthani, Director-General of Information Technology, Sultanate of Oman; and Dr Preetha Rajaraman, Health Attache and South Asia Regional Representative, US Dept of Health and Human Services.
The Union Health Minister also elaborated on the digital aspects of the Ayushman Bharat Digital Mission (ABDM), stating, "Under the initiative, over 332 million unique patient IDs (ABHA IDs), more than 200,000 health facility registries, and over 144,000 health professional registries have been created." He informed that ABDM will lead to the creation of a longitudinal health record for a patient, which can have bearing on the continuum of care across primary, secondary, and tertiary levels of care.
"ABDM also enables newer technologies and advanced data analytics to be integrated with existing solutions aimed at avoiding repeated diagnostics, accurate diagnosis, precision medicine, increased quality of care, timely response in emergencies, and lowering out-of-pocket expenses", he added.
Praising India's endeavors in digital health, Dr Poonam Khetrapal Singh, Regional Director, WHO South-East Asia, said, "Conducting more than 100 million tele-consultations through the e-Sanjeevani platform is no mean feat".
She emphasised the need to improve digital literacy for nations in the Southeast Asia region as well as the necessity of providing better ethics for managing global health data. She also called for increased international cooperation in digital health and innovation, leveraging the skills and resources of other nations. The necessity for additional digital solutions that are focused on people was further backed by Dr Singh.
Dr Mandaviya apprised the audience that while India is already working towards creating an enabling ecosystem for digital health in the country through various policy level reforms, the implementation and scaling up of these digital interventions are being parallelly focused upon. He informed that Indian Government has taken ambitious steps towards the convergence of advanced technologies like artificial intelligence and machine learning to achieve the overall vision of a digital health ecosystem.
The Centre for Development of Advanced Computing (CDAC), Pune, has been designated as the National Resource Center for EHRs, according to the Union Health Minister, who emphasized the Indian government's efforts to integrate advanced technologies into the delivery of healthcare services in the nation. Premier tertiary care institutions like AIIMS Delhi, AIIMS Rishikesh, and PGI Chandigarh have also been designated as Centers of Excellence (CoE) for AI in healthcare.
Reiterating India's commitment to creating a unified global health architecture, the Union Health Minister said, "Let's converge our efforts towards building a culture of interoperability in the development of digital solutions not only at the country level but also globally". He stated that greater focus is required on supplementing global investments instead of duplicating them.
"Under the G20 motto of One Earth, One Family, One Future, India is working towards greater collaboration and sustained efforts across the digital health ecosystem. Leveraging its G20 presidency, India is also encouraging the development of a common global platform for the sharing of medical counter measures, technical knowledge, digital infrastructure, and cost-effective digital health solutions", Dr Mandaviya concluded.