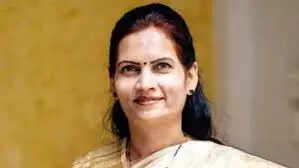 Varanasi: Union minister of state for health and family welfare Dr Bharati Pravin Pawar said the National Health Policy 2017 articulates a vision for universal access to quality, affordable healthcare for citizens and highlighted the schemes started by Prime Minister Narendra Modi to boost health infrastructure, insurance, and other facilities for enable people, especially poor, to afford treatment even of critical diseases.
Addressing the inaugural session of the Field Epidemiology Training Programme India Conference-2023 (South East Asia region) (FETPICON-2023) at Rudraksh International Convention Centre on Wednesday, the minister said that the recommendation made by experts will help in strengthening the workforce and surveillance process, which had already enabled India to combat COVID-19 pandemic effectively under the PM Modi's leadership and guidance.
"We need to be better prepared to rebuild this workforce and talent. And the outcomes of FETPICON-2023 will give a major contribution in this effort. The recommendations made by the experts of the field will help in formulating policies", she said adding, the need of a workforce with strong pandemic disease skills was well understood during the COVID-19 pandemic.
The Government of India has a vision to develop the epidemiological skill to district level public health functionaries in all the districts.
She said that in the last around 9 years, India has emerged as a major hub for healthcare services under the visionary leadership of the PM. Despite enormous challenges, India's health care system provides health services ranging from primary care to rehabilitation to more than 130 crore people, she said.
"Under the PM's leadership India not only developed its own COVID-19 vaccine in record time using indigenous technology and administered over 200 crore vaccine doses but also rapidly scaled up actions to respond to public health systems," she said.
More than 90 crore COVID-19 tests and genome sequencing of about 3.5 lakh samples were conducted, she said, adding that India's COVID-19 response demonstrated the strength of a robust public health system, along with determination of our frontline health workers. She also explained the objective of her ministry's Public Health Management Cadre Policy launched for empowering the public health workforce at the field level.
After the pandemic, a need has been felt to take this policy forward and implement it by the state governments, she said adding, FETP training for state and district functionaries will serve to enhance talent in the public health management cadre.
Earlier, the minister unveiled the 'One India FETP Roadmap Document and CD Alert on Ebola Virus Disease' at the inaugural function.
Field Epidemiology Training Program (South East Asia Region) Conference 2023, held in collaboration with the Indian Council of Medical Research – National Institute of Epidemiology, Uttar Pradesh Health Department, WHO Country Office for India and the US Centers for Disease Control and Prevention, will continue till February 24 .