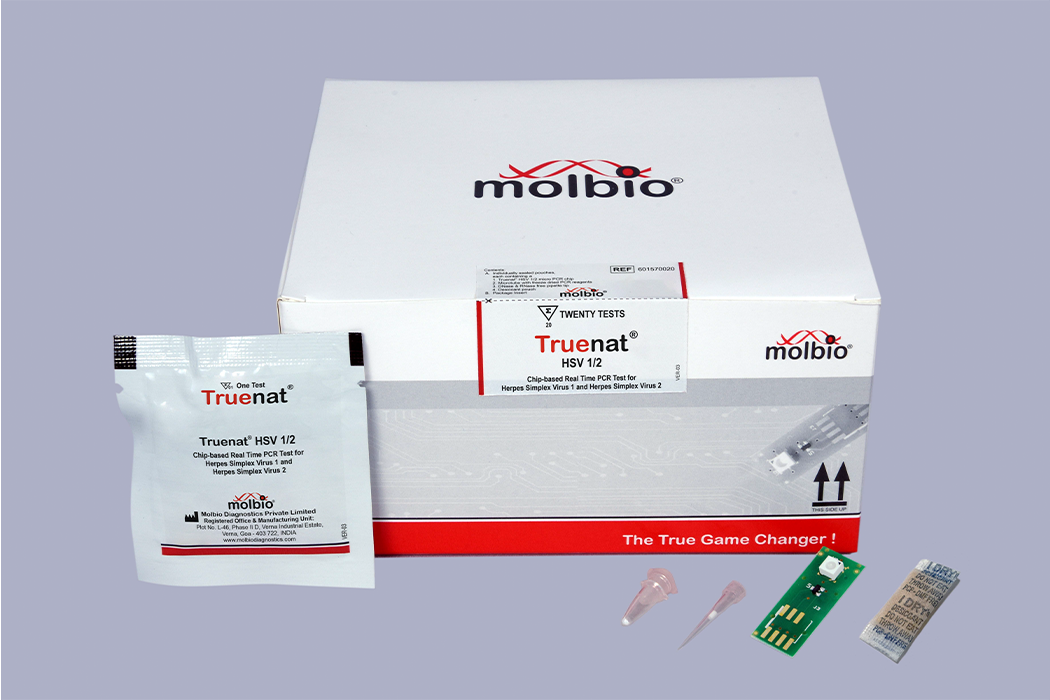 Verna: Molbio Diagnostics has launched the Truenat HSV 1/2 for testing the herpes simplex virus. The test is approved by CDSCO and can provide sample-to-test results in an hour. The real-time PCR test works on the existing Truelab infrastructure and doesn't require additional setup and equipment to run the test, making it possible to test at resource-limited settings.
Infection with herpes simplex virus (HSV), known as herpes, is common globally. HSV infections are classified into two types: HSV-1 and HSV-2. They can be spread when an infected person begins shedding the virus. HSV-1 is mainly transmitted by oral-to-oral contact to cause oral herpes which can include symptoms known as "cold sores" but can also cause genital herpes. HSV-2 is a sexually transmitted infection that causes genital herpes.
Both HSV-1 and HSV-2 are lifelong infections. Herpes infections are most contagious when symptoms are present, although they can still spread to other people if no symptoms appear. Infection with HSV-2 increases the risk of acquiring and transmitting HIV infection. Further, Herpes (HSV-1 and HSV-2) can also be transmitted from mother to child during delivery in rare cases that can lead to lasting neurologic disability or death.
According to WHO's 2022 report, an estimated 3.7 billion people under age 50 (67 per cent) have HSV-1 infection and an estimated 491 million people aged 15–49 (13 per cent) have HSV-2 infection worldwide. People with HSV – 1 are not at risk of reinfection but they are at risk of acquiring HSV-2 infection which increases the risk of HIV in patients by two or threefold.
Commenting on the launch, Sriram Natarajan, CEO, Founder, and Director, Molbio Diagnostics, said, "HSV is an infectious disease that the world has been fighting for a long time. Testing for HSV infection can help reduce infection rates by promoting education and awareness, as well as, to some extent, removing the stereotype associated with the disease."
Also commenting on the launch, Dr Chandrasekhar Nair, CTO, and Director, Molbio Diagnostics, said, "HSV is rarely addressed, and currently there is no cure. So, as the first step in preventing the disease's spread, we need an effective method of testing at the point of care that is both cost-effective and provides accurate test results. Molbio's Truenat HSV1/2 can ensure an easy and accurate diagnosis of the infection and thus leading to timely initiation of the treatment."