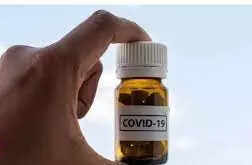 Pune: The Union health ministry is likely to include an oral antiviral drug, nirmatrelvir-ritonavir combination, in the country's upcoming Covid treatment protocol for patients with mild to moderate disease, who are at high risk of developing severe illness.
The combination drug, popularly known by the brand name paxlovid, is currently in high demand in China and a few other nations battling the Covid surge. India's upcoming Covid treatment protocol is expected to be released within a week.
"The combination two-tablet oral drug therapy is likely to be recommended in India for use in patients with mild to moderate Covid, who are at risk of developing severe illness," a Union health ministry official told TOI on Tuesday.
The World Health Organisation (WHO) has strongly backed the drug in its latest Therapeutics and Covid-19 – Living Guidelines released on January 13 this year. The organisation has also clarified that the drug was safe even for pregnant and breastfeeding women.
Over the last two years, the drug has continued to show a lot of promise in different trials world over in unvaccinated and vaccinated populations. "It can be very useful, especially in surge scenarios in preventing hospitalization," the official said.
Three Indian pharmaceutical companies have already been given permission to manufacture the generic version of the new antiviral molecules.
Molnupiravir, another oral antiviral drug, has slowly fallen out of favour for its failure to show efficacy in preventing hospitalization in people vaccinated against Covid-19 in subsequent trials.
The country's leading infectious diseases experts and epidemiologists have backed the nirmatrelvir-ritonavir (paxlovid) combination's efficacy in preventing hospitalization, but have advised its careful use to prevent resistance.
Mumbai-based infectious diseases expert Dr Anita Mathew said, "In patients at high risk of progressing to severe disease, nirmatrelvir-ritonavir (Paxlovid) has demonstrated good clinical benefit. But the medication has significant interaction with some other medications and should be taken only if recommended by a physician."
Dr Rahul Pandit, a member of Maharashtra and National Covid Task Force, said, "Yes, the drug (nirmatrelvir-ritonavir combination) is certainly effective. But it should be offered only to patients at risk of developing severe disease. It also needs to be seen how the drug works in Indian patients as it has not been exclusively studied in our subsets."
Again, the risk of severe disease is very low in a fully vaccinated population, hence, the drug's absolute benefit can be appreciated better during a surge situation at the population level, the experts said.
"At present, available options like monoclonal antibodies are ineffective against the newer Omicron and its sub-lineages and Remdesivir is given to patients only in a hospital set-up," said infectious diseases expert Dr Sanjay Pujari.