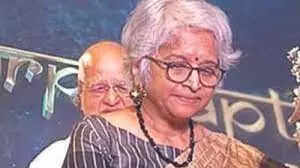 Bengaluru: Technology has the potential to revolutionise neurological rehabilitation and a wide variety of accessories and aids are now becoming available for people with neurological disabilities.
However, many of them are out of the reach of common people, said Dr Pratima Murthy, director, National Institute of Mental Health and Neurosciences (Nimhans), Bengaluru.
"At this point in time, many are in the developmental stage and are quite expensive. Also, they are not easily available. Devices, sensors, robotic approaches, or clothing suitable for patients with disability are becoming available but are outside the reach of most," Murthy said.
She was speaking at 'Punarprapti', an event showcasing the future of functional neurosciences (neuromodulation and advanced neurorehabilitation), held at Nimhans on Sunday.
Gadgets and devices can make life easier for people having visual, cognitive or locomotor disabilities. They can allow them to move about in the environment they live in safely and help them be as functional as possible. Virtual realities are now used for a whole lot of conditions starting with autism across the spectrum of what is known as developmental disorders.
"We are living in exciting times. There are a lot of possibilities and potentials. Artificial Intelligence offers much hope," Murthy said, adding that institutes like Nimhans are trying to make technology accessible for patients.
A poorly managed stroke and neurotrauma can cause severe brain damage and even death. "Wherever there is any kind of damage to the brain, it is associated with a loss of function. In addition to the preservation of life, it is very important to address functionality and quality of life. Neurorehabilitation can play a key role in that," said Dr Murthy. The environment is very critical in preventing further loss of function in stroke patients, she added.
"At the end of the day, besides rehabilitation a whole lot of work needs to be done in prevention," she said, adding: "We know that there are common risk factors across a variety of non-communicable diseases. So it becomes all of our responsibilities to look at a continuum of care which starts with prevention."
Murthy underlined the need for a shift from a speciality oriented approach to a patient-centric approach. "It is only when you adopt a patient-centric approach that you become aware of the patient's needs.
Globally, now patients and their families are a critical part of teams, even in research. It is important to ensure that the end user's needs are met in treatment. These may include needs related to speech and swallowing, motor activities, memory and cognition as well as emotional aspects."
Murthy said it is important to bring together traditional and indigenous systems as well as modern technologies. "Humaneness and compassion with which we look after our patients must be at the centre of all that we do," she said.
The event was organised by PRS Neurosciences Mechatronics, a research institute based in Bengaluru.