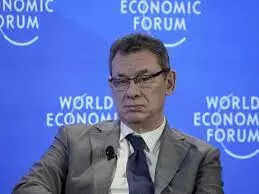 New Delhi: Pfizer's chief executive says the biggest challenge the company and other vaccine-makers faced during the pandemic was negotiating the politics.
Albert Bourla, who was speaking on Thursday on a panel on pandemic preparedness at the World Economic Forum gathering in Davos, Switzerland, said mask-wearing, vaccine efficacy or questions about delivering the vaccines were all politicised and were constant obstacles for vaccine-makers.
He says "the biggest challenge was the political challenge".
He added that protectionism as a result of fear meant the governments closed down borders, making it difficult to export vaccines or bring in raw materials needed to make them.
Former British Prime Minister Tony Blair made the distinction between the "forgivable" politics of government leaders trying to vaccinate their own population when an election was beckoning and the "unforgivable" politics of politicising public health.
He says turning mask-wearing into a political issue was "unforgivable and stupid".
Blair added that for most countries, the virus had receded into the "rear-view mirror" and the only way to keep the focus on it was to convince politicians that "there are votes in it".