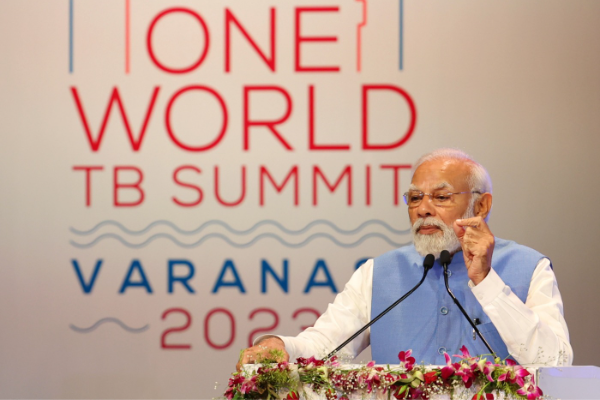 Varanasi: Prime Minister Narendra Modi urged citizens to work collectively towards tuberculosis (TB) elimination in the spirit of Jan Bhaagidari on a war footing and inaugurated the One World TB Summit 2023. In his address, the PM stated, "India's efforts are a new model for the global war on TB." Dr Mansukh Mandaviya, Union Minister for Health & Family Welfare, Anandiben Patel, Governor, Uttar Pradesh, Yogi Adityanath, Chief Minister, Uttar Pradesh, Dr Bharati Pravin Pawar, Union Minister of State for Health & Family Welfare, Dr VK Paul, Member (Health), NITI Aayog, Brajesh Pathak, Deputy Chief Minister, Uttar Pradesh, Mr Emanuel Osagie Ehanire, Minister of Health, Nigeria, Ethel Leonor Noia Maciel, Vice Minister of Health, Brazil, Dr Poonam Khetrapal Singh, Regional Director, WHO South-East Asia Regional Office and Dr Lucica Ditiu, Executive Director, Stop TB were also present at the summit.
State governors, State health secretaries and NHM MDs from states joined online. The event, also attended by representatives from corporates, industries, civil society, NGOs, and TB champions, reiterated India's commitment to eliminate the high-burden infectious disease by 2025, five years ahead of the global goal of 2030. This vision was first articulated by the PM at the Delhi End TB Summit in March 2018.
The PM unveiled the "Annual India TB Report 2023" which is a compilation of the country's efforts towards making India TB-free by 2025. He launched a training module on extrapulmonary TB. The module is developed for training healthcare workers of secondary and tertiary levels of the public and private sectors in India. The PM also launched the TB-Mukt Panchayat initiative to leverage the support of over 2.5 lakh gram panchayats to raise awareness about TB, eliminate the stigma attached to the disease and help monitor and improve the uptake of services. A new treatment preventive therapy was also launched to prevent the development of active TB – thereby stemming the spread of the disease. Alongside this, a family-centric care model was also announced to ensure the well-being of families affected by TB.
PM Modi also laid the foundation stone of the National Centre for Disease Control & High Containment Laboratory and inaugurated the site for the Metropolitan Public Health Surveillance Unit in Varanasi.
States and districts were also awarded by the PM for making significant progress on key programmatic indicators. Karnataka and the Union Territory of Jammu & Kashmir were awarded in the category of States/UTs and the Nilgiris (Tamil Nadu), Pulwama (J&K) and Anantnag (J&K) were given the district-level awards.
Addressing the gathering, the PM stated that the 'One World TB Summit' embodies the Indian philosophical principle of 'Vasudhaiva Kutumbakam', a Sanskrit phrase that means 'the world is one family'. He stated that it is imperative for us to embrace this philosophy and strive to create a world where everyone can live with equality and dignity, and free of ill health and infectious diseases such as TB.
He further stated that India's bold commitment to eliminate TB by 2025 showed the world that India will not be daunted by the challenge and instead initiate a strong and resolute response. He also informed that despite the setback from the COVID-19 pandemic, the country has rebounded back strongly and even surpassed pre-pandemic levels in TB case notifications.
Appreciating the contribution of healthcare workers who worked tirelessly for TB in spite of being repurposed for the COVID pandemic response from time to time, he appealed to them to continue the good work and asked them to adopt the same 5T approach (trace, test, track, treat & technology) for TB as was done during the COVID pandemic.
PM Modi highlighted that India identified concerns of global importance as health priorities under its G20 Presidency. "These include improving effectiveness and reach of health services using digital solutions; strengthening cooperation to enhance pharmaceutical development and manufacturing capabilities; dealing with anti-microbial resistance; focusing on 'One Health'– and all of these have strong resonance with India's and the world's fight against TB," he stated.
The PM also informed the audience about the tremendous success of India's National TB Elimination Programme (NTEP). He noted, "ICMR institutes like National Institute for Research in Tuberculosis (NIRT) has completed the world's largest National Tuberculosis Prevalence Survey which helped us understand the TB burden at the state level for targeted programmatic interventions." He highlighted that India is the only country in the world to implement a Sub-National Certification (SNC) exercise, a novel scientific method through which districts are verified for their progress of elimination. The PM also informed that more than ₹2,000 crore have been directly transferred to more than 75 lakh TB patients under the Direct Benefit Transfer (DBT) scheme for TB patients.
Acknowledging the contribution of citizens, industry, civil society and NGOs who came together in large numbers as Ni-kshay Mitras and provided additional nutritional and emotional support to patients for overcoming TB, the PM stated, "Ni-kshay Mitras have contributed over Rs 1,000 crore, making it possibly the world's largest community initiative for TB." He further stated, "This Jan Bhaghidhari is taking a form of mass movement with people's participation and an example of true democracy; Sabka Saath, Sabka Vikas, Sabka Swastha."
He also emphasised India's unique position to spearhead the global TB response and highlighted India's strength in technology, digital innovations, data science and epidemiology. He pointed to Indian innovations like the Ni-kshay portal which is an exemplary model that tracks the entire cascade of care for each TB patient and the new shorter treatment regimen for TB preventative therapy whose drugs have to be taken only once a week for 12 weeks instead of the earlier regimen of one drug every day for six months.
The PM offered to support other countries with technological tools, diagnostics, drugs, and help chart a forward-looking global strategy to end TB. He stated, "For us, the world is our family and we are there for any support you need." He further appealed to world leaders to enhance efforts against TB to reach the Sustainable Development Goals (SDG).
He also highlighted some of the significant strides that India has made in the healthcare landscape. He mentioned the creation of more than 1.5 lakh Ayushman Bharat – Health and Wellness Centres in India equipped with free essential drugs, diagnostics and telemedicine services for comprehensive primary healthcare; and entitling over 500 million people under the Pradhan Mantri Jan Arogya Yojana to free secondary and tertiary care as some of the novel schemes introduced to deliver quality healthcare in all parts of the country. He stated, "With the introduction of several new vaccines our under-5 mortality rate has reduced from 45 to 32 per 1000 live births, a massive 33-point fall in maternal mortality ratio (MMR) (130 to 97 per lakh live births) since 2014; with eight states already achieving SDGs related to MMR (less than 70/ per lakh live births in the same period." "Mission Indradhanush has resulted in an exponential increase in immunisation coverage", he further stated.
Highlighting India's handling of the COVID pandemic as a global best practice, the PM noted, "Our vaccine manufacturing capacities and pharma industries have ensured we meet the global demand for COVID vaccines and TB drugs. Our pharma industry meets almost 80 per cent of the global demand for TB drugs and now our innovators have given the world indigenous molecular diagnostics." He also stated that researchers and scientists in India are working hard to get a vaccine for TB.
The PM concluded his address by complimenting the TB Vijetas for defeating TB and helping other fellow citizens in fighting TB. He also thanked the healthcare workers for their tireless efforts in TB elimination. He said, "They are the backbone of the health system – standing with the patients at the frontline in this battle against TB."
Dr Mandaviya appreciated the success of the TB programme and expressed his belief in TB elimination by 2025 given the country's response to COVID-19.
The Union Health Minister highlighted that in a span of just 15 days since the launch of the Ni-kshay Mitra initiative, over 50,000 people applied to become Ni-kshay Mitras. Underlining the need for bottom-up strategies for TB elimination and a people's movement, Dr Mandaviya said, "When all of us contribute in our own unique capacities for a larger cause, our efforts are bound to reach fruition. I am confident with such spirit of enterprise; we will eliminate TB by 2025."
Yogi Adityanath expressed his gratitude to the country's leadership for selecting Varanasi as the venue for the One World TB Summit. He thanked the PM for launching the TB-Mukt Panchayat initiative to enlist the support of gram pradhans to deliver on the TB-Mukt India objective.
Dr Ditiu remarked that the summit is taking place in a city, thousands of years old to discuss a thousand-year-old disease in the world ie, TB. She said that India has a very high burden of TB but also the best plan, ambition and will to eliminate the disease. She underlined the global welfare embrace of India's G-20 Presidency and explained the importance of the theme – 'One World One Health'. She also stated that due to the efforts of countries like India, the number of people who are not getting diagnosis and treatment for TB has gone below three million for the first time in history. "India is inspiring the world in TB elimination. Every country should have the Ni-kshay Mitra initiative. I salute the way it is happening at sub-nationals too, not in pilot mode but at scale," she remarked.
Dr Ditiu recognised India's leadership in working towards the elimination goal five years ahead of the global target, "India has shown incredible leadership and introduced several groundbreaking initiatives reflecting the strong resolve and commitment of the government." She praised India's scale in tackling TB and expressed the belief that India will end TB by 2025. She also informed about the UN high-level meeting on TB taking place on September 22, during the UN General Assembly in New York and also requested the Prime Minister's presence in the meeting. She also urged the Prime Minister to lead and inspire other world leaders in this fight against TB. "The world is looking to India to take a lead at the global level and ensure the prioritisation of disease elimination by governments across the world," she stated.