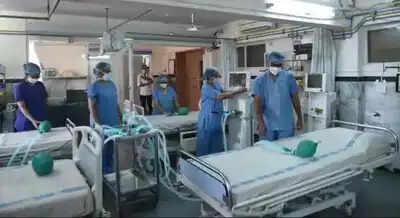 Jaipur: Ahead of the state Assembly's budget session, in which the state government is set to present and pass the Right to Health Bill, private hospitals have threatened to go on strike and boycott government schemes if the law brought them under its ambit.
The Bill was presented in the Assembly in September last year but had to be recalled after objections from the Opposition and private hospitals. The health department then invited suggestions from the protesting groups and prepared a revised draft that is to be presented in the budget session.
"The right to health should involve everything, including sanitation, clean drinking water and the breathable air without pollution. It should not be about healthcare treatment involving only hospitals," said Dr Vijay Kapoor, the secretary of Private Hospitals and Nursing Homes Society (PHNHS).
PHNHS opposes the provision in the draft Bill that makes it mandatory for all hospitals to carry out free treatment of patients in emergency situations who do not have a paying capacity. "Who will pay for such patients? Since the government has not clarified the definition of emergency, a patient with a small cut brought to the hospital's emergency may demand to be treated. The government claims that the treatment of such patients would be reimbursed through the Chiranjeevi health insurance scheme, but what about the hundreds of private hospitals that are not empanelled this scheme?" asked Dr Kapoor.
Health minister Parsadi Lal Meena has already said the Right to Health law, for which the health department had sought suggestions from doctors' bodies, would be enacted in the coming Assembly session. Dr Kapoor said private hospitals plan to boycott the government's schemes at their hospitals and go on a strike if the law is enacted.
Health activists are demanding that the law should be implemented early.