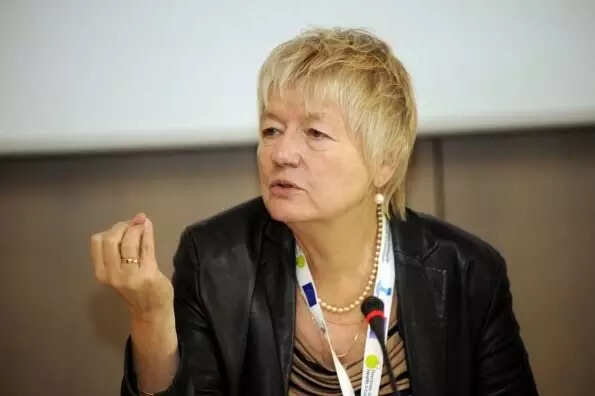 New Delhi: Healthcare advancements across the world are being spearheaded by digital transformations as artificial intelligence (AI), machine learning (ML), and digital data are revolutionising the industry at a rapid scale. Effective IT deployment is at the forefront of this new-age healthcare revolution, informed health industry experts at the tenth International Conference on 'Transforming Healthcare with IT.'
At the inaugural session of the conference, Prof Ilona Kickbusch, Founding Director and Chair, Global Health Centre, Graduate Institute of International & Development Studies, Geneva elucidated on the topic 'Digital Health and Global Health – Synonyms?'
Prof Kickbusch addressed the conference to highlight that with the increasing challenges posed by communicable diseases due to new obstacles such as antimicrobial resistance, in light of the bygone COVID-19 pandemic, the health industry is in evermore need of digital health solutions that align with global health priorities. She informed the audience and panel members, "In my experience, these are still two distinct fields. Those working in digital health are not automatically thinking of the global health impact or the potential of digital solutions, particularly for the world. Similarly, people in global health do not consider how digital technology can advance or undermine their work. Nearly three billion people, almost one-third of the population are not connected to the internet, and even more, people do not have access to universal health coverage. Therefore they are excluded from digitalised health systems, online sources of health information, and the growing number of digital tools that are accessible through mobile phones and digital devices. That is why we need to work with diligence and speed, to increase the convergence between digital and global health."
During the COVID-19 pandemic, when the entire world was shut down, the only way for people to transcend geopolitical borders was through digital connectivity. Moreover, the advancements that helped the world tackle the pandemic were also aided by the power of technology. This showcased the power of digital transformations and highlighted its significance as a global priority as it enabled a change in our very notion of health and wellbeing. However, such exponential growth also brought along with it many significant challenges.
Relaying this sentiment, Prof Kickbusch said, "The boundaries of digital transformations of health are being pushed forward at an accelerating pace often without the concern of health equity and human rights. And that for us is the focus of global health. We see that government regulations often can't keep up with the enormous speed of change. Digital transformations should be driven by public purpose and support the mission of public health and universal health coverage."
She notified the members of the conference that so far, digital and global health are not synonymous, but in the future, they could be. She said, "The effect of digital transformation is becoming so pervasive that it will soon become the dominant prism through which we think about the future of health and healthcare. We can not think about prevention and health promotion without thinking digitally. So digital health and global health can not only mean care, they mean creating health. Therefore we must recognise that digital transformation itself is the determinant of health. They can decide over life or death, they can lead to specific health impacts, they interface with political, societal, and economic climates and we need to address them accordingly."
"We believe that digital transformation holds great promise to improve health and wellbeing but this potential will remain theoretical and limited to certain pockets of the globe unless some important steps are taken and that is why the priorities of the G20 presidency are so critical. It will help address the enormous divides we see today in both health and connectivity. It will help us take up the challenge to make the health system digital-first and make health services and prevention available through digital tools and platforms," she added.
Diving deeper into the issue of digital transformations associated with global health, Prof Kickbusch laid special focus on the crucial aspect of health data governance. Anyone even slightly familiar with today's digital space must know the massive amount of data that is generated per second online. However, there is yet to be any responsible ethical governance of that data. She made the conference members aware of the fact that in February, hundreds of organisations called on WHO and its member states to start working on a global framework for health data governance that will allow the value of data to be used for public good whilst protecting individual rights and promoting equity. She also applauded India for prioritising digital health data governance to assume a prominent space in all global health policies under its G20 presidency.
Prof Kickbusch then highlighted the importance of data solidarity to increase collective control over data use, enabling equitable participation of all communities. She said, "A solidarity-based approach can ensure that data collection can prevent harmful data use. Data solidarity also entails that people that are harmed by data use, have access to support. We rarely take that into account. And finally, data solidarity aims to find ways to share profits emerging from commercial data for global health and other public purposes."
Shining a light on the importance of equitable access through a collaborative approach to effectively bridge the gap between digital and global health, she said, "Expanding the benefits of data, global partnership, and coordinating investments are needed to scale up access to open source digital public goods that can help especially in low-income contexts. Through our pandemic treaty and other global partnership we can ensure that innovations are equitably applied in support of global health goals leaving no one behind."
She added, "We need to identify the best buys in digital health so private investors can direct their resources towards the tools and approaches with the greatest potential to accelerate universal health coverage. So, global partnerships are critical for generating knowledge for identifying best practices, to foster collaborative scientific cutting edge research into digital health solutions that will benefit everyone."
Highlighting the urgency to prevent those aspects that undermine health and wellbeing by laying special focus on the importance of building trust between all stakeholders of the digital health ecosystem, Prof Kickbusch suggested that digital transformation, although essential for taking the next leap in healthcare, poses a new set of ethical and human rights challenges, such as the concerns about privacy, safety, and rights violations contributing to a lack of trust. She said, "We have neglected what we call the soft issues during the COVID-19 pandemic. What made the difference, if we compare the countries that had successful responses to COVID-19 was trust. Lack of trust can arise from the fact that the design and the governance of digital solutions consistently fail to include key groups. Young people are often excluded from decision-making spaces on the digital and they are the ones that are practising the digital world, and will live and benefit from the digital systems of the future the most."
Prof Kickbusch concluded her address by urging the conference members that all stakeholders of digital transformations and solutions to shape global health design and responses, must act in a precautionary, ethical, mission-oriented, and value-based approach. She stated that the health of all, values of democracy, equity, solidarity, inclusion, and human rights must be upheld at all stages of the digital development and implementation cycle. Our leaders must view digital transformation through the lens of universal health coverage to truly realise the potential of digitalisation; only then, digital health and global health becoming one will not just be a dream but a reality of our health future declared Prof Kickbusch.