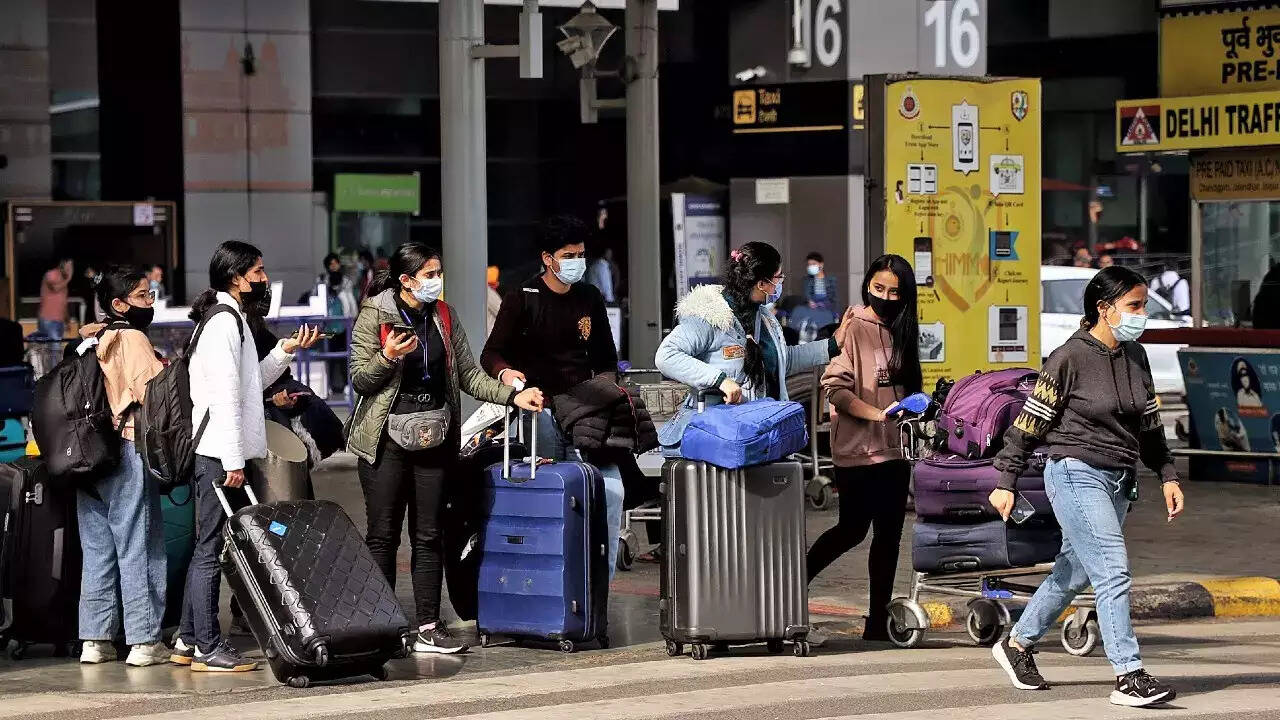 By Harika Palabatla
Hyderabad: The Russian invasion of Ukraine in February 2022 posed challenges for Indian medical students who flew Ukarine for their medical journey. About 16,000 medical students were stranded in war-torn Ukraine. Following this, the Government of India (GoI) initiated the 'Operation Ganga' programme to evacuate all Indian medical students and bring them home safely.
Post the return of these students their medical careers have been in jeopardy as the sudden shift to India has left thousands of these medical students in a state of confusion. The students have raised several concerns regarding the validity of degree certificates, online classes, university exams, and internship opportunities. To communicate these difficulties, the students filed Public Interest Litigation (PIL) in the Supreme Court seeking directions on the issue of admission and continuation of studies in the country. The petition also sought an appropriate direction upon the respondents to provide adequate infrastructure/academic and financial support for the continuation of medical education of the evacuated Indian students from Ukraine.
On August 18, 2022, the National Medical Commission (NMC) issued a notice answering all the concerns of the foreign medical graduates, the notice mentioned that Ukraine-returned medical students cannot be accommodated in Indian medical colleges and also stated that the online classes for foreign medical graduates cannot be considered in the Indian medical curriculum.
Increasing helplessness amongst these students lead to protests for the redressal of their plight. In response to the petition and the concerns raised, on September 6, 2022, NMC issued an academic mobility programme for these students. According to the programme NMC listed 29 countries including Poland, Austria, Czech Republic, France, and Georgia for the Indian medical students who were studying in Ukraine. The students could temporarily relocate and continue their MBBS courses, but the Ukraine Government would provide the degree.
However, even after ten months of the Ukraine crisis, of approximately the 15,783 medical students who returned from Ukraine, 640 have returned to Ukraine. Nearly 170 students have been granted admission to partner universities in different countries under the NMC's academic mobility programme while the remaining 14,973 have opted for online classes and are still struggling with their academic careers.
Experts' views on the situation
Accommodation of Ukraine-returned medical students in Indian medical colleges is still controversial. Speaking to ETHealthworld Dr Rohan Krishnan, President, Federation of All India Medical Association (FAIMA) said, "Accommodation of Ukraine returned medical students in Indian colleges is next to impossible because in our country the examination system is very strict and we cannot allow anyone to join in between courses, because the curriculum of Ukraine and the curriculum of India is entirely different, also a lot of aspirants who are having a higher rank than those who have opted for Ukraine did not join the colleges because they wanted to join in India itself. So it will be unfair for those students who have a superior rank and did not take admission in foreign countries."
Supporting Dr Krishnan's statement, Dr JA Jayalal, Immediate Past National President, Indian Medical Association (IMA) said, "The system of Indian medical education already has 95,000 graduates, accommodating these students in Indian colleges will set a very bad precedent, and it will cause a lot of difficulty to the Indian medical education system. The government has decided that these students can only continue from a similar system of medical education in other countries. A lot of universities have come forward, including Russian universities to support the students. Some of the students have migrated, and those who have a problem with finance are not able to transfer."
Although the academic mobility programme issued by the NMC provides opportunities, it also raises a challenge in terms of affordability. Commenting on the academic mobility programme Dr Krishnan said, "It is a welcoming move that these students have been allowed to take in the academic programme and continue their studies. But again, the affordability of medical education comes under this. My concern is, is there any uniformity in the fees for these students, unless and until there is no uniformity in the fee, It will be very difficult for the students."
Speaking about the acceptance of online classes for Ukraine returned medical students Dr Jayalal said, "NMC policy is that online education mode cannot be accepted, and this decision is taken after a widespread discussion among the doctors and various administrative bodies which consider it mandatory."
Adding to this Dr Krishnan stated, "Medicine requires bedside teaching. It requires a lot of patient-student interaction. So I welcome the move of NMC regarding the physical system because healthcare set-up, healthcare infrastructure, and healthcare facilities deal with people's life. It cannot be compromised at any level and the quality of doctors is of the utmost importance."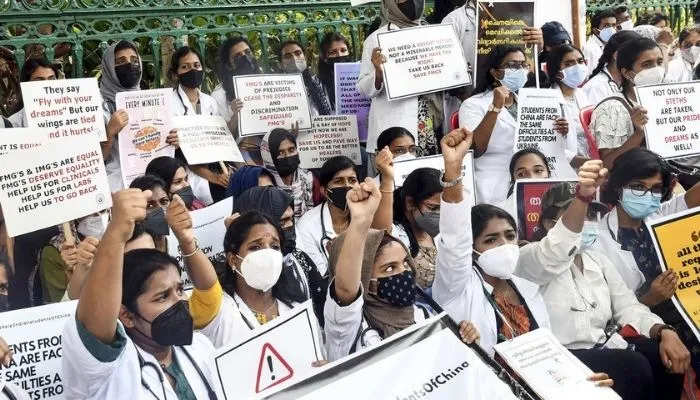 The plight of the students
Ten months post the evacuation from Ukraine, medical students are still confused and concerned regarding their medical careers. Manisha, MBBS first year, Zaporizhia State Medical University, Ukraine, stated, "I lost hope in my medical journey because we are sitting idle at home for nearly 10 months, till now we do not have any clarity on our career, NMC has given an option called mobility but I don't think there is clarity and accurate information about mobility. Also, our certificates are stuck in Ukraine, we have written letters, and emails requesting the university to give us our transcripts/certificates, but the university is not willing to give them back. So we have no other option left, but to wait until NMC/SC provides clarification on mobility/wait for the certificates which are yet to be given by the university."
Echoing Manisha's sentiment, Aisha Khan, MBBS second year, Uzhhorod National University, Uzhhorod, Ukraine added, "Being a second-year student it's difficult to take a transfer to another university because the NMC mobility programme has certain limitations which is a big barrier for the majority of the students. Taking a transfer to countries like France, Germany and the US is expensive as well as there are academic eligibility challenges as compared to Ukraine. NMC is also not providing enough information and help for students like me. The government should also provide financial support like offering loans without collateral with less interest."
Anugraha Thomas John, MBBS fifth year, Uzhhorod National Medical University, Ukraine stated, "We don't expect the Indian govt to accommodate us here in India but the least they could have done for us was to approve our online classes in this very situation. Some of us can't even afford to take transfers to new countries. The mobility programme is not happening anywhere in Ukraine, it's either you take a transfer to a different country or you continue your studies back in Ukraine through online/offline mode. Few students are risking their lives right now by going back, who can they blame, they have no choice left."
As NMC does not consider online classes as a valid option, Dr Jayalal advised, "Those who have completed the four-and-a-half-year course and are in their final year were permitted to appear for the FMG examination, but we have asked them to do two years of internship, that is an order which is passed by the NMC. But the problem comes with the people who are in the first year and second year and continuing their course through online education, my only advice to these students is they should take it as a challenge. They should reappear for the Neet UG examination and get into the Indian medical education system."
The accommodation of Ukraine-returned medical students in Indian medical colleges, and acceptance of online education has become controversial in the country. However, to resolve all these issues NMC has initiated an academic mobility programme, but five months since the mobility programme launched students have voiced certain difficulties regarding the programme and are struggling with their medical careers. This highlights the need for immediate government intervention and provide a resolution for a better future for these stranded medical students.