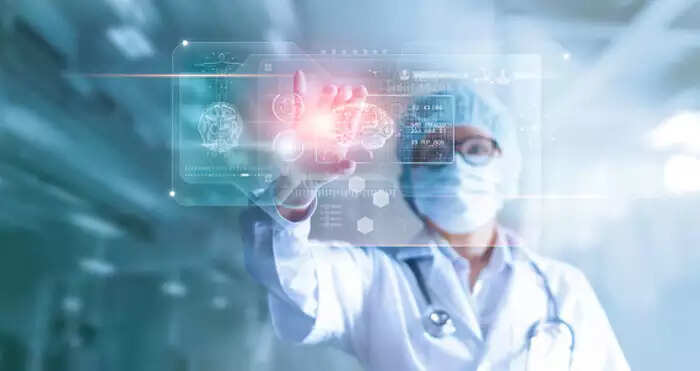 By Abhishek Bhatia
New Delhi: Amidst a lot of predictions, speculation, and punditry, the Union Budget 2023–24 was out on Wednesday. Although Finance Minister Nirmala Sitharaman's speech in Parliament did not include enough references to healthcare, some of the announcements about artificial intelligence (AI), data governance, and 5G policy decisions have raised many eyebrows. Experts speaking to ET Healthworld shared multiple viewpoints, but one key takeaway that came out was that these steps can potentially transform the way the healthcare industry functions on many different levels.
As anticipated earlier by the experts, the government has increased the funds for two major schemes coming under the purview of India's digital health infrastructural ambitions. There has been a considerably sharp increase in allocations to the National Digital Health Mission (NDHM). From around Rs 200 crore in 2022-23, around Rs, 341 crore has been pumped into the country's premier digital healthcare initiative this time. Pradhan Mantri-Jan Arogya Yojana (PM-JAY), a cashless health insurance framework, also had a substantial increment of funds with a 12.3 per cent rise.
While illustrating it as a huge opportunity for making Ayushman Bharat Digital Mission a one-stop solution for every Indian citizen's healthcare needs, Dr Gaurav Arya, Executive Director, Health NERDS International OPC, said, "If the allocated resources are used well. For example, building a digital database or registry of all cancer patients, sickle cell anaemia patients, and patients suffering from diabetes and cardiovascular diseases and linking them with the nearest health centre could provide access to diagnosis and treatment and reduce the burden of these diseases across India."
"Real-world data is vital to measure and demonstrate the impact of early diagnosis, timely treatment, and regular follow-up for such diseases at the national level. The proposed 'National Data Governance Policy' (NDGP) will hugely help academia and healthcare service providers to use anonymised data for decision-making and action. This patient data, made available to the public, will be able to contribute to developing innovative healthcare solutions in India, having applicability across the world, making India a potential world leader in healthcare innovations," added Dr Arya.
Welcoming the budget, Nandkishore Dhomne, CIO, Manipal Enterprises Pvt Ltd, said, "It's never 100 per cent and given the fact the healthcare industry, we are an important stakeholder in the Indian economy. The National Data Governance Policy (NDGP), if implemented, is going to be the core of the digital mission for our country. This is an important milestone, I would say, for the nation. This will enable the secure sharing of information for various research and application development purposes."
Praveen Bist, CIO, Amrita Hospitals, expressed his satisfaction with the commitment shown by the government towards healthcare, saying, "With the strong foundation and push from the economic stimulus, my feeling is that it will greatly help and is much awaited by the healthcare industry. So I strongly believe that will act like a catalyst, especially where the public healthcare facilities are also getting a facelift, which will further challenge and propel the advancements in healthcare, both from a technological as well as an operational perspective."
"This is a world of AI, and getting three AI centres under the National Data Governance Policy is an important rebate. This would not be good enough for us, but this is a very good beginning. This AI-enabled system will help in setting up the digital mission. Also, it's not just to provide information; AI will help improve the efficiency and quality of decision-making when it comes to delivering healthcare services," Dhomne elaborated further.
Vikram Thaploo, CEO, Apollo Telehealth, said, "The establishment of 100 new labs for developing apps using 5G services to realise a new range of opportunities in healthcare is a much-needed move by the government. Also, the setting up of three centres of excellence for artificial intelligence to enable 'Make AI for India' and 'Make AI work for India' will certainly boost India's digital prowess. All these essential moves by the government towards health infrastructure and a focus on a holistic approach to health are seen as a testimony to India's commitment to building stronger health systems in the country."
While expressing his views on the budget, Dr Shravan Subramanyam, Managing Director, Wipro GE HealthCare, said, "The technology-focused Union Budget 2023 comes at a perfect time as India accelerates the pace of the National Digital Health Mission. A renewed focus on technological advancements—AI-based tele-ICU technology to help remotely monitor infected patients in hospital ICUs in non-metros, the promise of 100 5G labs, and opening new doors for 'Make AI in India', 'Make AI for India'—will underline the value of precision care. The road ahead will need stronger public-private partnerships and sharper penetration of digital to take healthcare to the farthest reaches of the country."
Dr Subramanyam concluded, "The budget takes inspiration from envisioning India at 100."