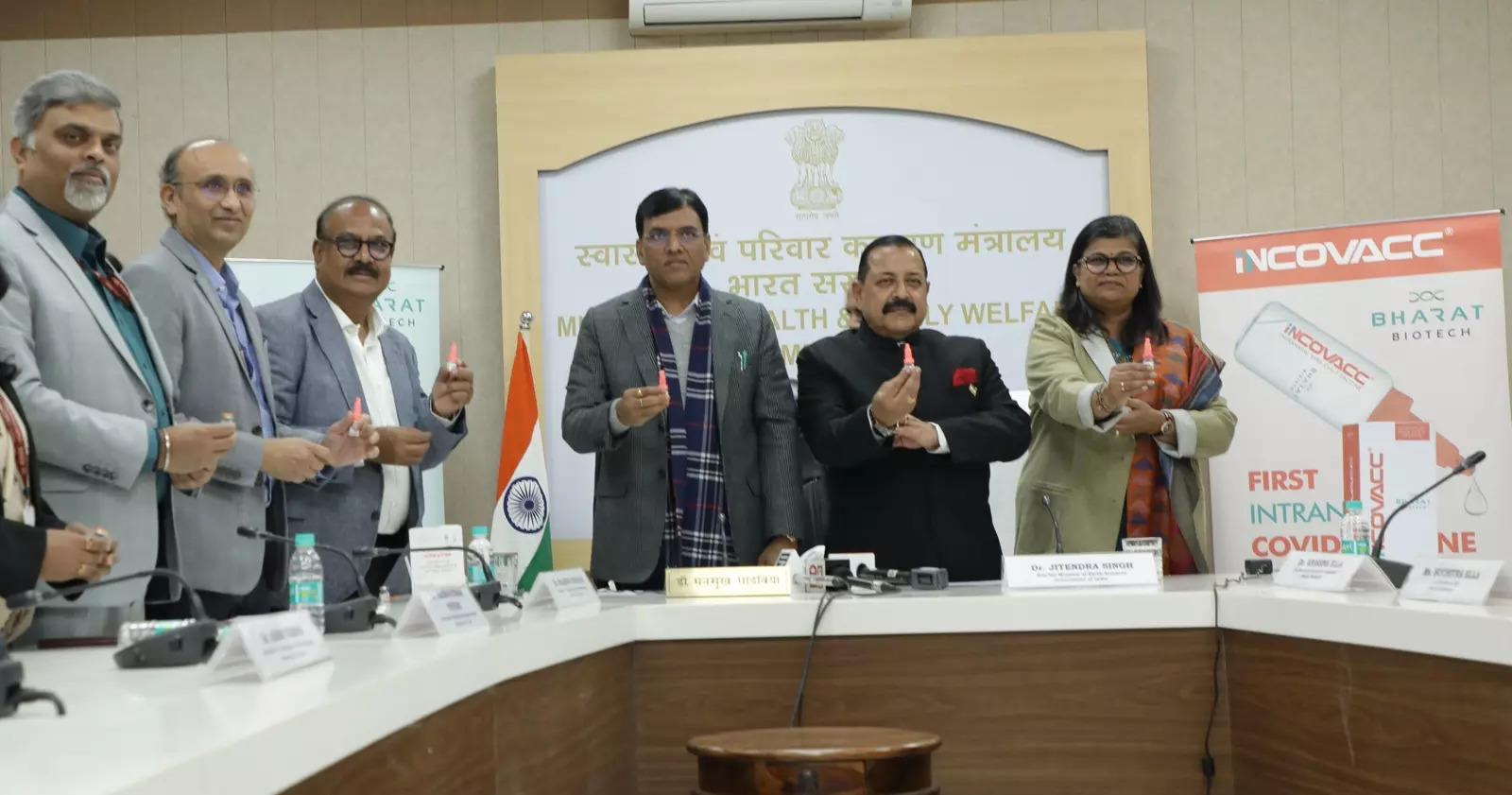 New Delhi: The world's first nasal vaccine iNCOVACC, developed indigenously in India was launched on Republic Day by Union Health Minister Dr Manshukh Mandaviya in the presence of Dr Jitendra Singh, the Minister of State (Independent Charge) for Science & Technology. iNCOVACC is now available on CoWIN, and priced at Rs 800 for private markets and Rs 325 for supplies to Govt of India and State Governments.
Launching the intranasal vaccine, Dr Mandaviya said, "Launch of Incovacc is an important milestone under Atma Nirbhar Bharat efforts. Today, 65 per cent of vaccines for the world are contributed from India. In the global dialogue, India's manufacturing, research and innovation capabilities are admired in the world. India will not be just known for pharmacy of the world, but will be known for research and innovation too."
Informing that nasal vaccine will be a huge success, Dr Jitendra Singh said, "We owe it to the world, India has taken the lead, we have a legacy of dealing with communicable diseases, nasal vaccine will be a huge success, with ur expertise and diligence it will be a success story."
This vaccine has been specifically formulated to allow intranasal delivery through nasal drops. The nasal delivery system has been designed and developed to be cost-effective in low and middle-income countries. As a needleless vaccination, Bharat Biotech's iNCOVACC will be the world's first such booster dose. India will now have more options when it comes to third doses or precautionary doses.
Speaking about the rollout of iNCOVACC, Dr Krishna Ella, Executive Chairman, said, "With the rollout of iNCOVACC today, we have achieved our goal of establishing a novel vaccine delivery platform for intranasal delivery. It proves that India can innovate for itself and for the world. We and the country are well prepared for future COVID-19 variants and future infectious diseases. We reaffirm our commitment to India, to lead innovation and develop novel vaccine technologies for combating infectious diseases and public health globally. We have proven these capabilities and expertise time and again with innovator vaccines such as TYPBAR TCV, ROTAVAC, JENVAC, COVAXIN and others. Bharat Biotech is a leading global developer and manufacturer of vaccines with more than 7 billion doses manufactured till date."
"Despite the lack of demand for COVID-19 vaccines, Bharat Biotech continued product development in intranasal vaccines, to be well-prepared with platform technologies for future infectious diseases. Bharat Biotech has also initiated development of variant-specific vaccines for COVID in an attempt to be future ready," the homegrown vaccine maker, Bharat Biotech said.
Adding to it, Suchitra Ella, MD, Bharat Biotech, said, "It is exemplary that India has not only served herself during the pandemic challenges, but also a strong provider to the global platform in distributing vaccines and medicines to over 150 countries. iNCOVACC – the world's 1st intranasal COVID vaccine, we are privileged to defend the nation's health with global quality and scale."
iNCOVACC was developed in partnership with Washington University, St. Louis, which had designed and developed the recombinant adenoviral vectored construct and evaluated in preclinical studies for efficacy. Product development related to preclinical safety evaluation, large-scale manufacturing scale-up, formulation and delivery device development, including human clinical trials were conducted by Bharat Biotech. The Technology Development Board, Govt of India has been instrumental in debt financing for commercial scale manufacturing facilities."
"It is exciting to see the deployment of iNCOVACC® in India as a nasally-delivered vaccine and booster," said Dr. Michael S. Diamond, MD, PhD, of Washington University in St. Louis, who co-developed the nasal vaccine technology with Washington University colleague Dr. David T. Curiel, MD, PhD.
"The continued waves of COVID-19 infection necessitate new strategies to overcome transmission. By generating immunity in the upper respiratory tract at the portal of entry of the virus, this vaccine has the potential to better limit spread of the virus than other approaches. Washington University licensed the vaccine technology to Bharat in 2020 for further development," he added.