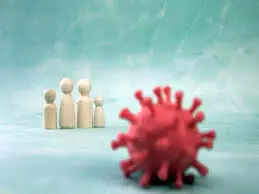 Pune: The Omicron subvariant causing China's Covid surges may not be a major worry for India because the population here has developed a level of hybrid immunity, former director general of CSIR Shekhar Mande and immunologist Arvind Sahu, from the National Centre for Cell Science, said during a lecture on 'Resurgence in Covid' held in the city on Sunday.
According to the World Health Organisation, 'hybrid immunity' is defined as the immune protection in individuals who have had one or more doses of a Covid vaccine and experienced at least one infection bout "before or after the initiation of vaccination".
Sahu said India has gone through an Omicron wave and the version triggering spikes in China was a subvariant of the main strain the population here has already been exposed to. Mande reasoned that the large vaccine coverage in India added to the protection, which would eventually reduce the rate of serious Covid symptoms in people.
Both experts did not dismiss the possibility of new infections, but added that as Covid progresses, this rate should slow down. They urged citizen to maintain primary precautions, as advised by the health ministry.
Mande said: "We have had high coverage with over 2 billion Indians vaccinated against Covid. Besides this, many were also infected after taking the vaccine, which has made their immune system even stronger. So, the Indian population has developed hybrid immunity."
Sahu, in his explanation of hybrid immunity, said: "We are protected by the vaccine, but what we haven't developed very well is respiratory mucosal immunity. Immunisation usually doesn't trigger this well. But in those who have been infected after vaccination, local mucosal immunity can be generated. This not only protects against the virus, but also guards against its variants."
Sahu said hybrid immunity has been observed in both humans and animals.
"With this hybrid immunity present in the society, transmission will be less. The Omicron variant has already passed India and what is currently present in China is a subvariant. Since we have been exposed to Omicron and have immunity against it, it's not completely 'new' to us. So we feel there will be no major impact in India," he said.
The immunologist said precautions such as masking and distancing continue to be important.
"We may see another wave in India too, but fatalities and hospitalisations will be much less. Masking, sanitisation and other precautions will be the best way to limit the spread," he said.
Scientists worldwide have been researching hybrid immunity to learn more about the phenomenon. Early investigations discovered that serum samples from vaccinated individuals who had been infected with SARS-CoV-2 fought off the virus better than samples from those who were vaccinated, but had never been infected.
However, scientists have said that it's still largely unclear how long this 'super immunity' lasts in people.