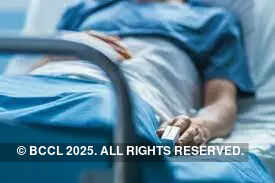 Vadodara: A person can claim insurance even if s/he was not admitted to a hospital, or was admitted for less than 24 hours, a Vadodara consumer forum observed while ordering an insurance firm to make a payout to Rameshchandra Joshi, a resident of the city.
The Vadodara Consumer Disputes Redressal Commission (additional) observed that with the advent of new technology, patients sometimes are treated in lesser time or without being hospitalised. "If the patient isn't admitted, or is treated in less time after being admitted due to new techniques, the insurance firm can't reject the claim by saying that the patient wasn't admitted," the forum added.
Joshi had filed a complaint against National Insurance Company Ltd in August 2017 after the firm rejected his claim. Joshi's wife had dermatomyositis in 2016 and was admitted to Lifecare Institute of Medical Science and Research Centre in Ahmedabad. She was discharged the next day after treatment.
Joshi filed for an insurance claim of Rs 44,468 but the firm rejected it by citing clause 3.15 and arguing that she wasn't admitted continuously for 24 hours as per the clause in the policy. He presented all the documents before the consumer forum and stated that his wife was admitted at 5.38 pm on November 24, 2016 and discharged at 6.30 pm on November 25, 2016, which was over 24 hours. The forum said that even if it is assumed that the patient was admitted to a hospital for less than 24 hours, in the modern age new treatments and medicines have been developed and doctors provide treatment accordingly. The insurer was ordered to pay Joshi Rs 3,000 for mental harassment and Rs 2,000 towards litigation costs.