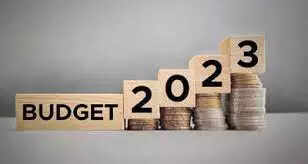 New Delhi: Quality and affordable healthcare is the foundation for individuals to lead productive and fulfilling lives and for countries to have strong economies. To enhance the economic conditions of healthcare in India, there is a need for the wise spread of budgetary allocation in the healthcare industry. As the Union Budget 2023-24 approaches, the Indian Medical Association (IMA) demands universal healthcare with strong public sector investment and strategic purchases from the private sector by the government.
IMA has submitted a healthcare budget proposal to the Government of India (GoI) for consideration, which shares an array of aspects and fund allocation for the healthcare industry.
Poverty eradication key to building a healthy nation :
Mentioning that every year 2.4 per cent of the population goes below the poverty line because of catastrophic healthcare expenditures, IMA stressed that alleviation of poverty is the surest way towards a healthy nation. As the COVID-19 pandemic experience has a strong case for declaring health as a fundamental right, the association believes that it's the right to time take action. It expects that GoI to improve universal access towards health including safe water, sanitation, nutrition, and primary education as well as eradication of poverty is a cornerstone in the path to the wellness of a society and nation.
Tax-based health financing system vital to enhance UHC :
The vision of universal healthcare (UHC) transcends the narrow, inadequate and often inequitable view of UHC as merely a system of health insurance. UHC moves beyond 'insurance'. The UHC is linked firmly to the Right to Health and converts an aspirational goal into an entitled provision. For such a vision of the UHC to be realised, IMA suggests that a tax-based health financing system is essential.
IMA demands that the central government has to ensure essential primary, secondary and tertiary health care services to every citizen in the country and suggests that citizens should be free to supplement free-of-cost services (both in-patient and outpatient care) offered under the UHC system by paying out-of-pocket or directly purchasing additional private voluntary medical insurance from regulated insurance companies.
Need for an increase in capital expenditure on health infra:

Citing that health policy 2017 promised a GDP in healthcare of 2.5 per cent by 2025, however, the increase in healthcare has been negligible and still hovers around 1.1 per cent of GDP, IMA points that the healthcare expenditure of Rs 89,000 crore for last year, a major chunk of Rs 83,000 crore is revenue expenditure. Capital expenditure is only Rs 5630 crore. A substantial increase in capital expenditure is required in the proposed budget to make a meaningful change. For equitable distribution of health and attaining universal healthcare, more infrastructure and facilities need to be added.
As public health services are key towards improving healthcare services to a community, IMA recommends that one PHC with 24×7 services should be available for every 15,000 population instead of one PHC servicing 30,000 population for a few hours in a day, More FRUs and CHCs have to be established.
IMA also highlighted that PM Ayushman Bharat Health Infrastructure Mission (PMABHIM) had announced spending Rs 64,180 crore for building infrastructure, but the allocation for the last two years taken together was only Rs 8000 crore, hence a suitable increase in the allotment is required, regards to that IMA citied
In 2022 only Rs 37000 crore was allocated for NHM. More allocation of funds to NHM can improve the infrastructure, human resources, and preventive and curative services in the states.
In 2022 only Rs 37000 crore was allocated for NHM. More allocation of funds to NHM can improve the infrastructure, human resources, and preventive and curative services in the states.
Human resources development for health and medical education was allocated Rs 7500 crore in 2022 which was not enough. There is still a huge shortage of qualified and trained healthcare staff.
IMA specified that funds of AB PMJAY should be used exclusively for the private sector for strategic purchase and to create a retainer system and not for critical gap funding of Government hospitals.
"Deficit funding is the most important cause of the lack of penetration of AB PMJAY. If the funding has to be raised to at least CGHS level, then the money required is around Rs 1,60,000 crore. The money being provided now is around Rs 12,000 crore. It is not possible to deficit finance to this level. Insufficient fund allotment is the root cause of unrealistically low package rates. AB PMJAY should remove the unjust exclusion criteria for procedures imposed on private hospitals," the IMA proposal stated.
GST and other taxes for healthcare services
The healthcare sector is the only industry that does not take input credits, the GST that the institutions paid is also indirectly added to the cost of treatment, so IMA recommends that either some percentage of total GST paid by healthcare providers be treated as advance tax or MAT (Minimum Alternative Tax) or the GST paid by them on equipment or otherwise should be reduced to 5 per cent.
IMA demands that the Government should conceive zero rate GST on healthcare services, allowing service providers to claim Input Tax Credits. As GST is not payable on healthcare services, service providers are not eligible for the input tax credit. Enabling this would ensure that input taxes are not added to the cost of the services and will provide some relief to the patients. It also seeks income tax and TDS may be waived on money received from government schemes like Aayushman Bharat and other state schemes since the pricing of the schemes is less than the cost incurred.
47th GST Council meeting recommendations
1. Like CTEPs, common bio-medical waste treatment facilities for treatment or disposal of biomedical waste shall be taxed at 12 per cent so as to allow them ITC." This was earlier in the GST-exempted category.
2. Room rent, excluding ICU, exceeding Rs 5,000/- per day per patient charged by the hospital will also be taxed at 5 per cent GST, without ITC. This was earlier in the GST-exempted category.
3. Exemption of social security schemes and other family welfare schemes of doctors from the ambit of GST may be considered.
Withdraw GST on CMEs and skill training which is a disincentive on nation building.
4. Apart from this, the healthcare sector is burdened with embedded taxes for various goods and services. It will be in the fitness of things to keep healthcare away from GST. The application of GST will push healthcare towards a business model and away service-centric one. The burden will be on poor people.
5. Postgraduate medical students receiving stipends during the course may be exempted from income tax.
6. Tax incentives may be provided to doctors working in government hospitals and private doctors establishing a practice in aspirational districts.
7. Increasing the limit of exemption for Mediclaim in tax returns from Rs 25,000 to upto Rs 50,000 per year for individuals and Rs 1,00,000 for dependent parents.
Ensuring access to working capital and preferential funding for healthcare professionals
In order to lower operating costs overall, IMA demands that doctors and healthcare organisations should have access to working cash and preferred funding. Special schemes should be made available for the formal training of doctors and nurses to improve their abilities and capacity to give care to a larger population, which will help in strengthening the long-term quality of healthcare resources. It also seeks to increase the ability to provide intense medical and surgical treatment by improving nursing skills and providing better infrastructure and equipment.
IMA also suggests that the benefits under the 'Make in India' programme should be granted to producers of medical supplies and equipment.
Protection and encouragement of small hospitals are essential
India has a distinctive middle sector for the provision of healthcare. There are several small hospitals, including nursing homes. They continue to be reachable and accessible. This middle sector is between for-profit corporate hospitals and public hospitals.
Average Medical Expenditure per treated ailment by healthcare service providers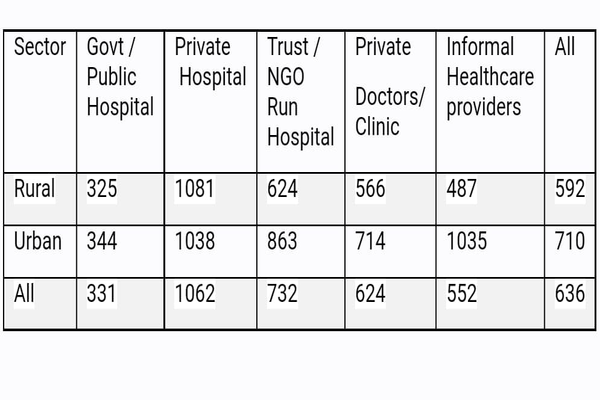 As per the above report, more than 44 per cent of the Indian population prefers private doctors/clinics /nursing homes for their medical treatment.
The average medical expenditure per treated ailment is low, highlighting this IMA suggest that protecting this middle sector with the encouragement of doctor entrepreneurs is an urgent task and has to be carried out on a war footing.
The proposal also highlighted setting up a special welfare fund for doctors in general and for Covid martyrs, a national-level comprehensive elderly care programme with geriatric clinics, daycare centres, home care facilities, training for caregivers and special fund allocation to cater to the health needs of migrant workers to ensure health services to elderly care, migrant workers.