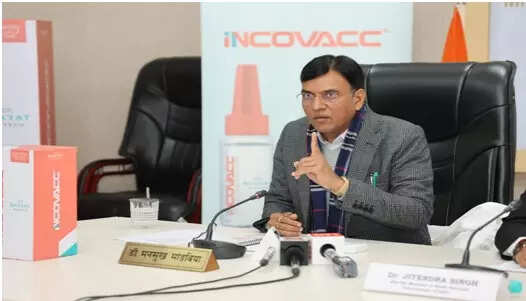 New Delhi: Unveiling the world's first made-in-India intra-nasal COVID-19 vaccine iNCOVACC, on India's 74th Republic Day, Union Health Minister, Dr Mansukh Mandaviya stated that it is a glorious tribute to the call for Atmanirbhar Bharat. He added that India will not be just known for pharmacy of the world, but will be known for research and innovation.
Launching the intranasal vaccine at his residence, Dr Mandaviya said, "The launch of iNCOVACC is an important milestone under Atma Nirbhar Bharat efforts. Today, 65 per cent of vaccines for the world are contributed from India. In the global dialogue, India's manufacturing, research and innovation capabilities are admired in the world. India will not be just known for pharmacy of the world, but will be known for research and innovation too."
iNCOVACC is the first intranasal COVID-19 vaccine to be approved for both a heterologous booster dose and a primary 2-dose regimen. The vaccine was launched in the presence of Union Minister of State (Independent Charge) for Science and Technology, Dr Jitendra Singh. The nasal vaccine created in partnership between Bharat Biotech International Limited (BBIL) and Biotechnology Industry Research Assistance (BIRAC), a PSU that falls under the Department of Biotechnology, Ministry of Science and Technology.
Congratulating BBIL for innovating another vaccine in collaboration with BIRAC, Dr Jitendra Singh said that "India has taken a lead in developing vaccines and medicines for diseases common in the developing world. Next step would be to develop vaccines for non-communicable diseases."
Adding to it Mandaviya stated that India's vaccine manufacturing and innovation capability is appreciated all over the world as it has made a mark in producing quality and affordable medicines. He further emphasised that within a month after the release of the first COVID vaccination worldwide, BBIL and ICMR introduced COVAXIN in India.
The roll out of iNCOVACC, a cost-effective COVID vaccine that does not require syringes, needles, alcohol wipes, bandages, etc., is expected to begin in private hospitals that have placed advance orders. Initial manufacturing capacity of several million doses per annum has been established; this can be scaled up to a billion doses as required. The Government of India and several state governments have procured iNCOVACC in large volumes at a price of INR 325 per dose.
Speaking about the rollout of iNCOVACC, Dr Krishna Ella, Co-Founder and Executive Chairman of Bharat Biotech, said, "It proves that India can innovate for itself and for the world. We and the country are well prepared for future COVID-19 variants and future infectious diseases. We reaffirm our commitment to India, to lead innovation and develop novel vaccine technologies for combating infectious diseases & public health globally. We have proven these capabilities and expertise time and again with innovator vaccines such as TYPBAR TCV, ROTAVAC, JENVAC, COVAXIN and others. Bharat Biotech is a leading global developer and manufacturer of vaccines with more than seven billion doses manufactured till date."
The intranasal vaccine had received the Drugs Controller General of India's (DCGI) approval in November for restricted emergency use among adults as a heterologous booster dose. The vaccine was developed in partnership with Washington University in St. Louis, who created the recombinant adenoviral vectored construct and tested its efficacy in pre-clinical investigations.