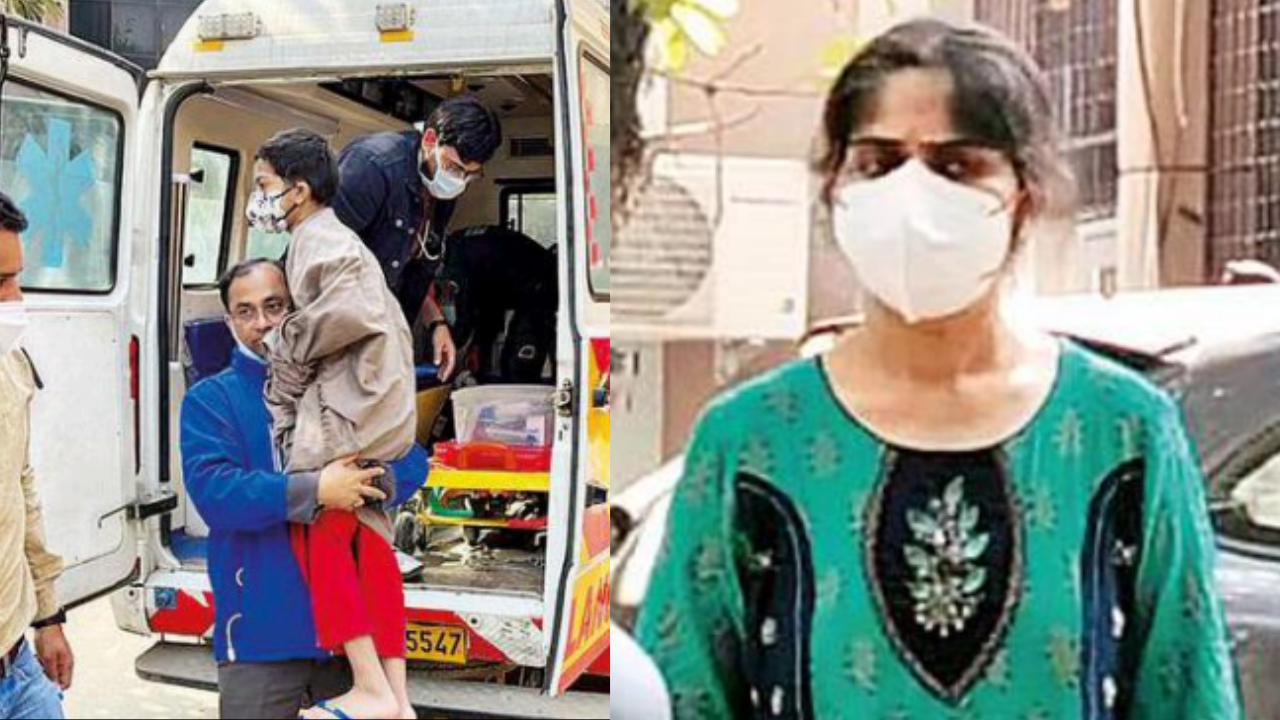 GURGAON: A woman who had locked herself and her 10-year-old son in their house in Maruti Kunj for three years, fearing they would contract Covid, was brought out of confinement on Tuesday by a team of police, health officials and members of the child welfare department who had to break open the main door.
In all these years, Munmun Majhi – who is in her mid-thirties – did not allow even her husband into the house after he stepped out to go to office when restrictions eased somewhat after the first lockdown in 2020.
Out of home, Sujan Majhi – an engineer with a private company – spent the first few days with friends and relatives. But after multiple requests failed to persuade Munmun, he took a house on rent in the same locality.
A video call was the only way Sujan stayed in touch with his wife and son. But he ensured no one disturbed them either. He would dutifully pay the monthly rent, clear the electricity bills, deposit his son's school fees, buy the groceries and vegetables and even leave the bags of ration outside the main door.
Munmun, police said, had cut off contact with most of her relatives over the years. She would let her son use the smartphone because he had to attend online classes. The homemaker had even stopped using cooking gas because it needed replacing the cylinder. She had been using an induction heater instead.
For the first few months, Sujan tried persuading his wife to allow him inside the house or come out. But to no avail. He then got his in-laws and parents to talk to Munmun, but that did not help either.
Her only condition was that she would stay locked until there was a Covid vaccine for kids. Till now, there is no vaccine for children below 12 years – Munmun's son is 10 now.
When all else failed, Sujan went to police. But the cops decided to stay off initially as it was a family matter and there was nothing illegal.
It was last week that Sujan met Praveen Kumar, an assistant sub-inspector attached to the Chakkarpur police outpost.
"I admit I did not take the case seriously at first since it involved a family matter. But the man was in distress. He made me talk to his wife and son over a video call. I was a little restless after talking to the child. He was upset that he hadn't come out in the sun in three years," Kumar said.
The police contacted the health department. A team of cops, health officials and members of the child welfare department and an NGO knocked on Munmun's door on Monday.
Talks didn't make much headway and the team had to beat a hasty retreat as the woman threatened to kill her son and die by suicide.
The team returned on Tuesday morning and tried to counsel Munmun again. After a couple of hours, they broke open the door and rescued the mother-son duo. The two were admitted to the Civil Hospital for a health check.
"We assured her that nothing would happen to them, and that we would take care of their health. We also told her that Covid numbers were marginal now," Kumar said.
Sujan was overwhelmed to feel the touch of his son after three years and could not hold back his tears. "I am happy they are out. I have to take care of their health," he said, before rushing to the hospital.
Virender Yadav, the chief medical officer, said the two were undergoing treatment. "A medical team, including psychiatrists, is evaluating them," he added.
Doctors pointed out that anxieties during Covid had led to behavioural changes in a number of people.
"There is a possibility that the woman is suffering from a psychological disorder. A lot of people have had Covid-related anxieties, leading to behavioural changes. Excessive hand-washing, for instance. When this behaviour becomes extreme, people develop abnormal pathological beliefs such as 'delusions'," said Dr Saurabh Mehrotra, a senior consultant at the neurosciences department of Medanta-The Medicity.
"When this becomes a psychosis, people lose sense of reality and engage in extreme behaviour. From the perspective of the child, he was isolated from everyone for three years. He will have probably started suffering from sensory deprivation. There might be problems with his memory and social interactions," he added.